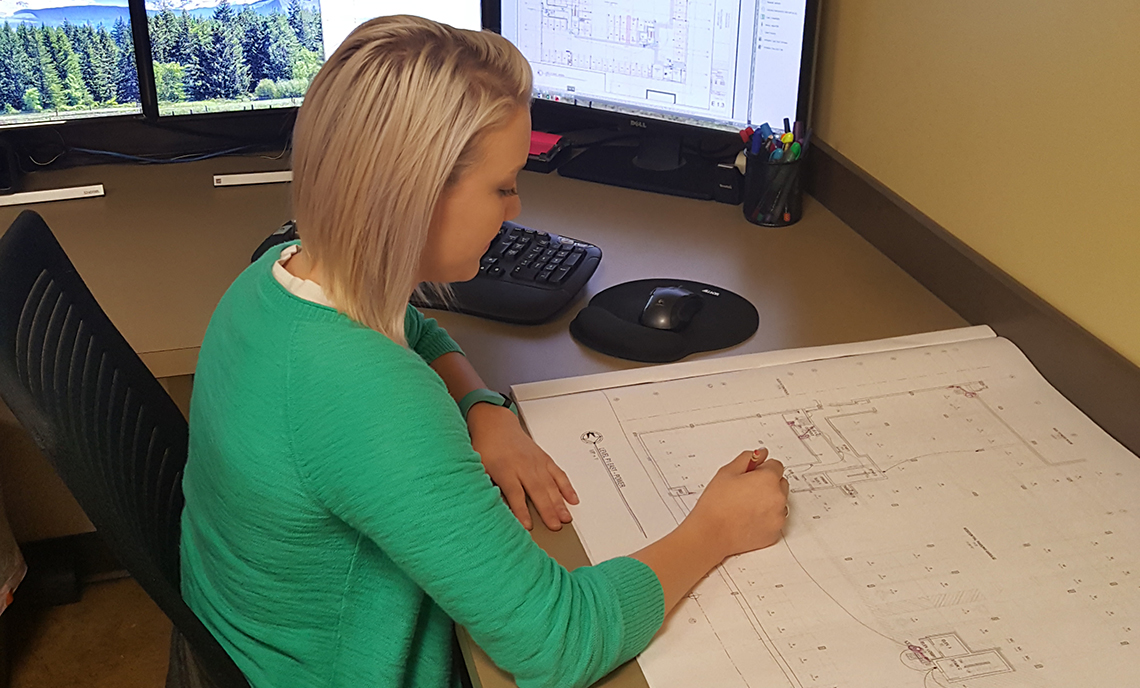 Ahead of the Game: Architecture Alum Gets Career Head Start
August 19, 2016
Most recent high school graduates spend the summer either planning for college or looking for an entry-level work opportunity. Most recent high school graduates are not Sarah Cox.
Cox graduated with honors from Clover Park Technical College and Northwest Career & Technical High School in June. But adding to that accomplishment, Cox began her career full-time at the end of winter quarter.
"She graduated from college and high school and already started her career at the same time her friends at Rogers were graduating from high school," NWC&THS principal Loren Davis said.
Cox began working at Boone Electric in March as a CAD drafter as she finished her final quarter in CPTC's Architectural Engineering Design program.
"They showed the job listing in class, and I knew a lot of people who worked there," Cox said. "I dropped off my resume, came in for an interview the next day and they hired me one week later. So then I started spring quarter with three online classes to finish up my AA while working full-time."
June's graduation ceremony capped an educational journey for Cox that began at Rogers High School. She transferred to NWC&THS at the beginning of her junior year and took both high school and college courses for six straight quarters. Her final quarter included a few general education classes to finish her degrees.
"I didn't enjoy the high school atmosphere," Cox said. "I wanted to get a jump-start on my career and get ahead of the game. The architectural engineering design program was what drew me to Clover Park. Designing is one of my passions."
Cox credits her experience at CPTC and NWC&THS for helping prepare her for the workforce. Not only did she receive the education she needed to pursue her career, she also learned valuable lessons about what it takes to be a responsible employee.
"The architecture program was great," Cox said. "I learned a lot from that class – not just drafting and architecture. My instructors made it like an office atmosphere. I learned how to dress nice every day, be professional and meet realistic deadlines."
Now, while most of her former classmates take the next step toward college or are searching for a job that doesn't require a college degree, she has a full-time career in a field she's passionate about. While it took a lot of hard work and dedication, she says it was worth the effort.
"I would tell current and future students to stay strong until the end," Cox said. "My last quarter I had to work full-time and take three online college-level classes and it was really difficult, but I kept my head up and graduated with honors in June."