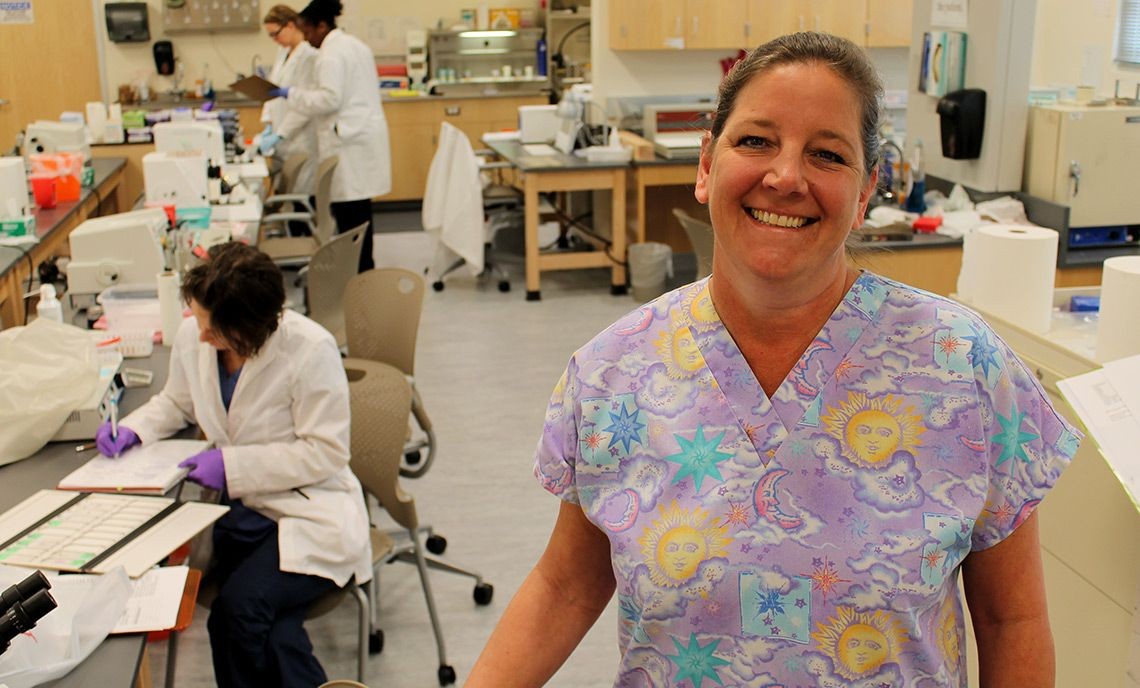 Congratulations to the President's Unsung Hero for April
April 21, 2015
Medical Histology Technician Instructor Bekki Haggerty was quick to respond when the Department of Pathology at Madigan Army Medical Center was in dire need of histology technicians earlier this year.
Haggerty and Clinical Placement Coordinator Josie Meyer quickly worked behind the scenes to get the paperwork situated for eight student volunteers to work in the lab.
"We immediately flew into action," Haggerty said.
Because of Haggerty's response to local community and business and industry, along with increasing student success and educational access, the CPTC instructor was selected the President's Unsung Hero for the month of April.
Haggerty's Medical Histology Technician students typically intern during Summer Quarter, but eight students gained extra on-the-job training as a result of their eight-week volunteer work at Madigan.
"Having the ability to get into a histology lab and see how every piece of the puzzle fits together is invaluable to them," Haggerty said.
It's just another opportunity Haggerty used to lead her students to success. Haggerty's students carry a 97.7 percent pass rate on the national certification exam, well above the 56 percent average. Haggerty said she also teaches the largest histology program in the country.
"It's a lot of information in one year and my students have to be willing to dedicate the year to studying," she said. "They live, eat and breathe histology. My students tease me that I need to add 'dream' to the list."
Haggerty has 20 years of industry experience and started teaching at CPTC eight years ago. In 2010 she was the recipient of the National Society of Histotechnology Excellence in Teaching Award, and in 2012 and 2014 she received their Membership Award.
Haggerty's students are currently working on their "Go Live" final that Haggerty created her first year as instructor. It's a lab project that pieces together everything the students have learned over the last year. The students operate the student lab as if it were an operating histology lab from start to finish. It's the final project before they start their internships this summer.