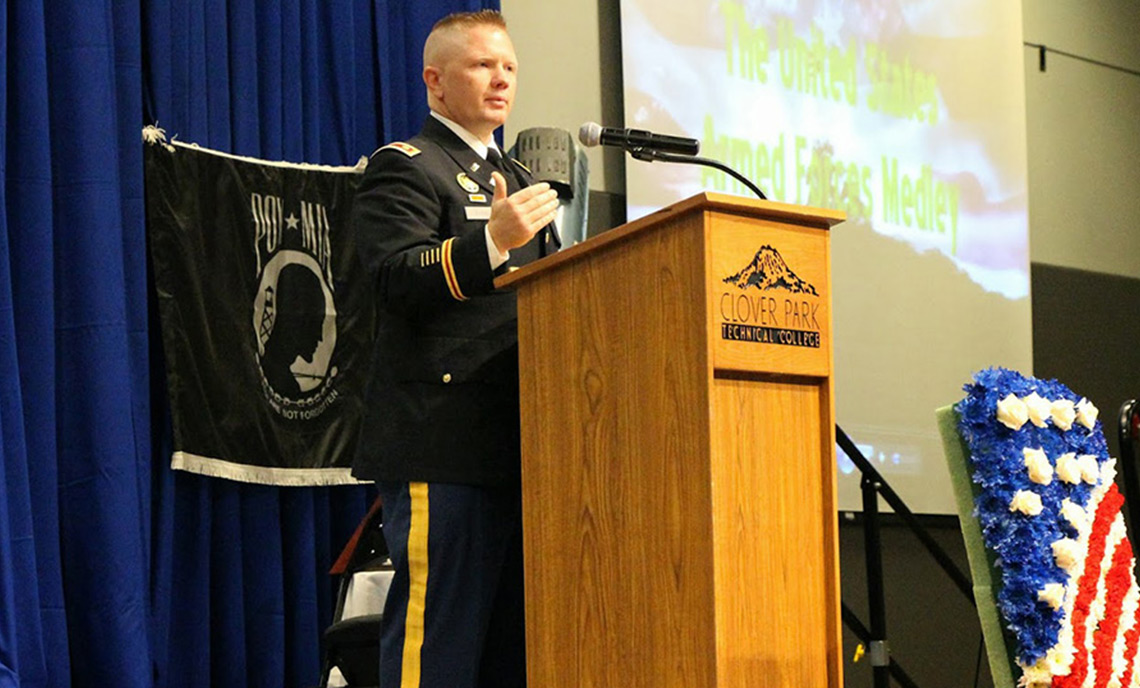 Congressman Heck Reminds Ceremony Attendees to Restate Commitment to Veterans
November 8, 2013
More than 200 people listened intently as Congressman Denny Heck spoke at the Veterans Day Ceremony in the McGavick Conference Center at Clover Park Technical College's Lakewood Campus on Nov. 7. Staff, students and faculty paused to remember, reflect and reignite their commitment to veterans.
"Veterans Day is not just another day to recognize veterans," said Congressman Heck during his speech. "It's a day to reignite our commitment to veterans issues. We don't recognize veterans just once every three-hundred and sixty-five days."
Heck's keynote address was delivered after Maj. David Raines, who commands Charlie Company of the Warrior Transition Battalion at Joint Base Lewis-McChord, provided vivid stories of wounded soldiers battling to recover from their injuries.
"Soldiers in our battalion learn to make barriers, we call them challenges, a speed bump to look back on in their transition back to the force or to civilian life," said Raines.
The event also featured a POW/MIA Ceremony led by student veterans Travis Cohen-Lucy and Randy Holt and CPTC alumni and U.S. Army Veteran Jonathan Wagner, who now works in the Veterans Resource Center at CPTC.