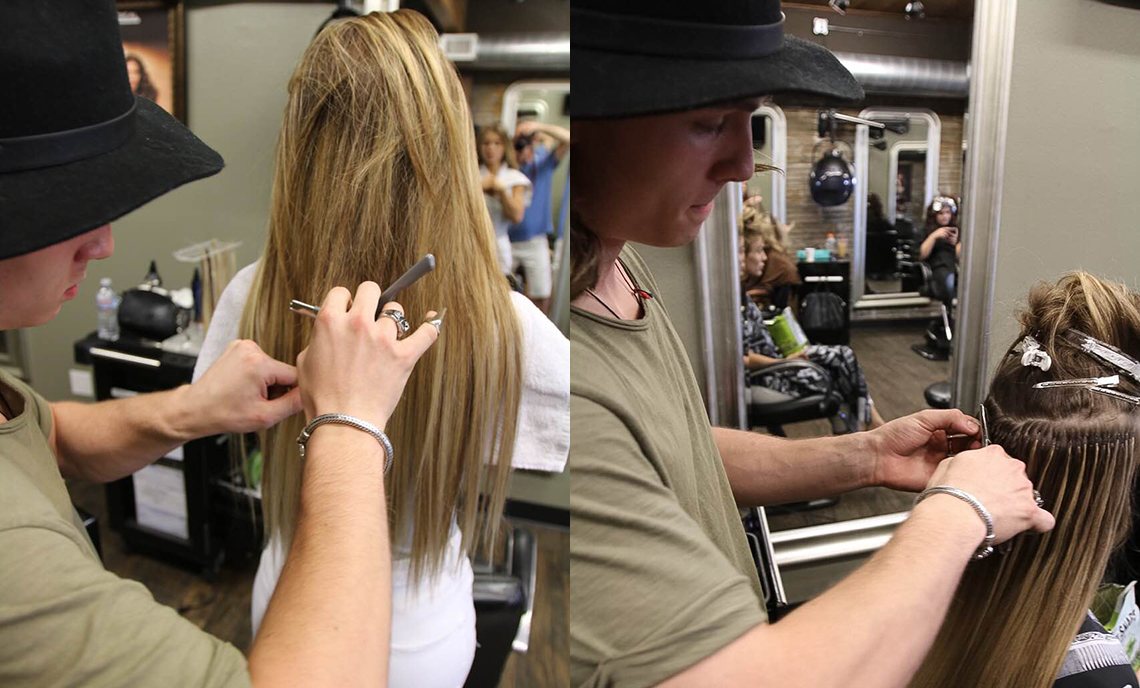 CPTC Alum Becomes Stylist for the Stars
January 5, 2017
Two months ago, Roby Woobank made the biggest move of his life, and for good reason. The 2016 graduate of the Clover Park Technical College Cosmetology program packed his bags and headed to New York for an assistant stylist position at the famed Sally Hershberger/Tim Rogers Salon.
"There's a big sacrifice going to a different coast. It all went down really quickly," Woobank said.
For Woobank, a lifelong Federal Way native, the move was a natural progression of a life devoting to styling. After growing up around the industry in his parents' salon, he began traveling with his family to hair shows around the country in high school. These experiences showed him the possibilities available to him in the hair industry. They also helped him build connections that could help grow his career.
"Definitely growing up going into that world of hair shows, the world opened up so quickly," he said. "I was learning and seeing so much in such a short period of time."
Woobank came to CPTC as part of the Running Start program to begin his junior year of high school. By that point he knew what he wanted to do, and continuing high school courses would have postponed his education and eventual career.
"Being in high school was a limitation on what I could do," he said. "With Running Start I was able to substitute my credits here and get the education rather than wasting time in high school and pay tens of thousands of dollars to go to a salon like Gene Juarez to gain the education later."
When the opportunity arose in the fall for him to move to New York and work at one of the best-known salons in the business, Woobank was ready. He'll work as an assistant for the next two years, assisting stylists for photo shoots and working in the salon while also focusing on learning as much as he can.
"After the two years, if I'm ready I get a permanent position," Woobank said. "By that time I'll have clients I've been helping out and making connections with and bonding with. Even just having the two years at Sally Hershberger Salon will be huge as a learning and resume experience."
As plans were coming together for the move in late October, Woobank took an opportunity to stop back by the CPTC campus and speak to a class of first-quarter Cosmetology students. He advised the students to get out to whatever shows they can and figure out what they want to do in the industry. Then, he said, they should devote themselves entirely to reaching it.
"You've got to set a goal, a place where you want to go," Woobank said. "If there's something that's bigger and better that you're dreaming of, there's nothing stopping you but yourself. Figure out your goal and do what it takes to get there."
During his class visit, Woobank also took some good-natured flak from his former instructor Carine DeLeon. She could not resist the opportunity to point out how much time he spent on his phone instead of paying attention in class. Although to be fair, she admitted, it was always for good reason.
"He was always looking up hairstyles and showing us," DeLeon said.
DeLeon and the rest of the Cosmetology instructors expressed nothing but excitement and pride for Woobank. And beyond his own personal success, they were thankful for his willingness to share with fellow aspiring professionals.
"Roby is very open, and he's a great connection. He stems from Clover Park and is always looking to help," DeLeon said. She advised her students to not hesitate in reaching out to him for a connection or advice.
As for Woobank, the chance to work at a place like Sally Hershberger is more exciting than daunting.
"Being a celebrity salon, it's pretty high profile," he said. "There's a lot of pressure, I guess, but I like that."