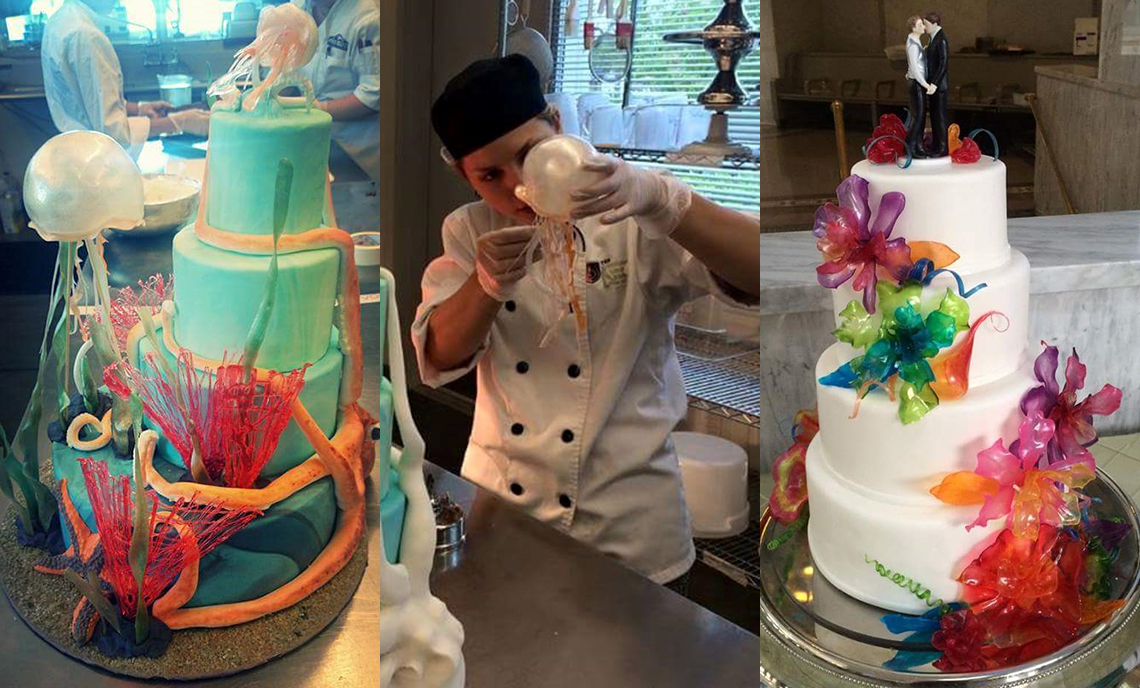 CPTC Alum Takes Sugar Skills to "Halloween Wars"
October 26, 2016
Clover Park Technical College Pastry Arts alum Teresa Argeris first started focusing on baking while in the military. Several years later, she found herself in the midst of "Halloween Wars" on Food Network, putting her sugar work skills to the test in pursuit of a $50,000 prize.
"It was like a dream; it was surreal," Argeris said of being part of the show. "You don't expect this opportunity to appear when you're so focused on your path to success, and then something like that happens. I'm very grateful for that opportunity, and who knows what will come next."
In its sixth season "Halloween Wars" currently airs Sunday nights on Food Network. Argeris and her two teammates formed the "Crypt Cookers" and made it through the first four episodes before being eliminated in last Sunday's episode "Mausoleum Mayhem." They finished third and fell one week shy of the season finale.
But while Argeris' friends, family and fellow CPTCers followed each episode over the last month hoping to see her claim the grand prize, she knew exactly what was coming. Because the show actually filmed last November.
"It was two weeks of just intense, intense filming," Argeris recalled. "You've got the stress of being up super early and filming until late at night, eating really quick. It was pretty fun, but I tried to keep my cool and calm and collectedness about me so I could do well. I saw some people start to stress out because they'd stay up all night worrying, and you could tell in their work."
The process began when one of Argeris' friends recommended she apply to be on one of the Food Network shows. She browsed the website and saw "Halloween Wars" as a perfect venue for her specific skills.
"My specialty is sugar work, and I wanted to showcase my sugar work skills," Argeris said. "So I applied, sent an email in with a little bio about myself and a video. The next thing I know I got an email back asking for more information and some pictures of what I'd done."
Several months later, she received the positive news that she'd been accepted. That meant two weeks of filming in Los Angeles in November 2015, working with a pumpkin carver and a cake artist she'd never met.
"We all met at the LA airport," Argeris said. "I knew I was going to have a pumpkin carver and a cake artist, but I didn't really know anything about these guys until we met up in LA. I got lucky that Jason is a cake artist and executive chef, and Lenny is a master pumpkin carver. We still stay in contact, so that's kind of nice."
As for the filming experience, it was as high-pressure as it appears on television.
"It really is a war," Argeris said. "You're in a competition, with three people on a team and $50,000 on the line. It's pure adrenaline, I think that's what I ran on the whole time I was there was an adrenaline rush."
The experience provided a culmination of several years of growth for Argeris, beginning with the military and continuing at Art Institute in Seattle and Clover Park Technical College. She finished the Pastry Arts program at CPTC in June.
"I started baking for my squadrons on my deployment to Saudi Arabia," Argeris said. "It was something for stress relief after a long day of work. After getting out of the military I went to school for pastry arts at Art Institute of Seattle before coming to CPTC to finish it all up."
CPTC was where she discovered her true passion – sugar work.
"I found the pastry program here, I spoke to Chef Newman and was comfortable with her," Argeris said. "That really drew me in, that everything here is professional. It was Chef Newman who showed me ideas for sugar art, and inspired me to recreate Dale Chihuly-type art with sugar. I just read and read, watched videos and did stuff to get better."
Her acceptance to join "Halloween Wars" actually forced Argeris to miss a few weeks of classes, adding another layer to her busy time in California with school work from the road.
"I had to get permission from my business teacher and from Chef Newman to go down there, and I still did work online," Argeris said. "I used Canvas and did schoolwork through there while I was away."
Despite falling short of first place and the $50,000 prize, Argeris is proud of her experience and thankful she no longer has to stay silent about the result.
"That's what was so hard, to keep something that big a secret for a full year," Argeris said.
Currently working as the lead pastry chef at Dolce Si in Tacoma, Argeris did not rule out another go on Food Network.
"I've noticed that a lot of people who have been on shows have come back and either done the same show or new shows," Argeris said. "I met a couple people on the show who had been on either Halloween Wars or one of those other shows before. If I have the opportunity to be on another show, I'd probably do it."