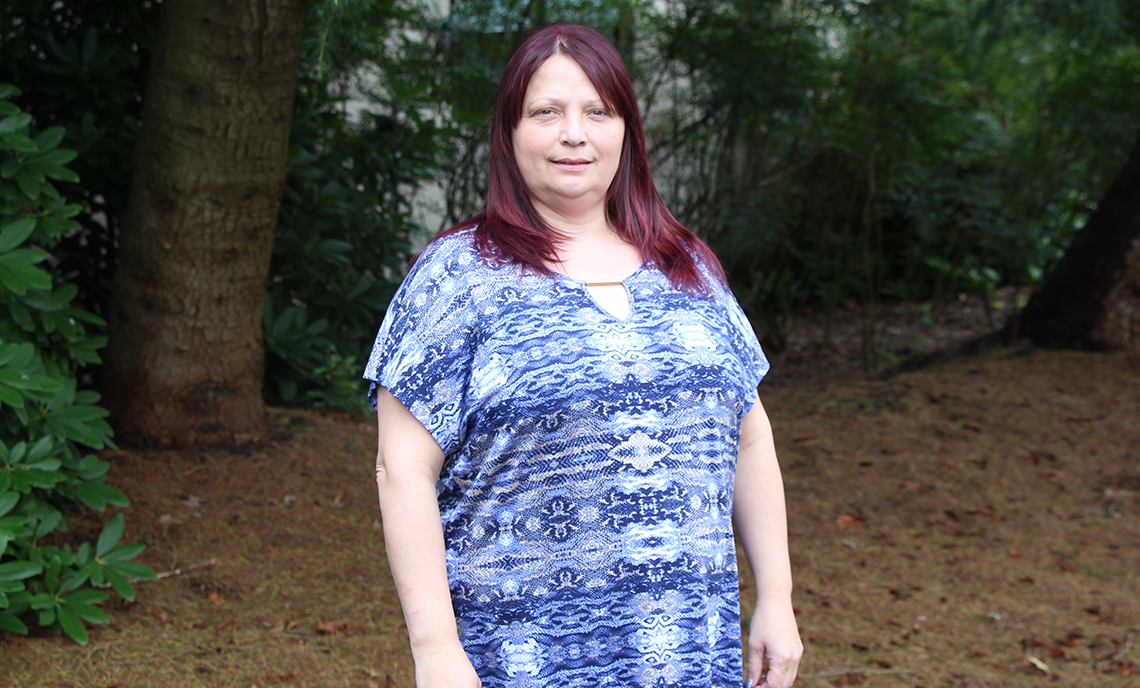 CPTC Student Seeks to Help Others Through Addiction Recovery
April 7, 2017
Barbara Van Hise has found her calling, and it's in human services. She will graduate from Clover Park Technical College in June and look to live out that calling in a training center. While today she is secure and stable in her calling, foundation and future, her journey to reaching this point was anything but secure and stable.
"I didn't think I could go back to school," Van Hise said about returning to school two years ago. "CPTC encouraged me that I was never too old to go back, and scholarships eased the financial burden and allowed me to do it."
Van Hise dropped out of school in ninth grade at the age of 16 after becoming pregnant with her first child. An abusive relationship, another child three years later and the eventual loss of custody of her children led her down a destructive path. Drug use, prostitution, theft and eventual meth production led to her spending two-and-a-half years in prison.
"I had finally hit rock bottom," she said.
She returned to Tacoma following her prison stint and probation period, but it wasn't long before she fell back into drugs one final time. However, once her daughter became pregnant she gave Van Hise the ultimatum to get clean if she ever wanted to see her grandchild.
"This was a turning point in my life," Van Hise said. "From that day forward, I began a new journey that would lead me to Clover Park."
She went into treatment, staying a total of 60 days. As she continued to struggle, she realized she had to change everything in her life. Finally, as she worked through the steps and worked closely with a sponsor, she graduated from Greater Lakes Mental Health. When Van Hise became pregnant with her third child, she decided it was time to go back to school.
"I really wanted to help other addicts like me, so I enrolled at CPTC and took Chemical Dependency certification courses," Van Hise said.
She has received eight certificates and is set to graduate in June. She has been clean for seven-and-a-half years, and her family relationships have been restored.
"I see my grandbabies every weekend," Van Hise said. "Even with my children, I'm back connected with them. I was out of their lives for 15 years, but now I'm there and I get to be grandma."
Van Hise's journey has led her to a place where she can now have a unique impact assisting others going through similar struggles – an experience she says is "a lot to take in and makes me stay grounded and honest." However, her upcoming CPTC degree, the training necessary for her to have that career opportunity, would not have been possible without scholarships. She is a four-time scholarship recipient during her time at CPTC, and she'll be sharing her story at the CPTC Foundation Scholarship Celebration Luncheon on April 18.
"I am excited, a little nervous to get up in front of people, but it's something I need to do for myself and to help get the word out there that scholarships help," Van Hise said.
The luncheon begins at 11:30 a.m. in the McGavick Center at CPTC's Lakewood Campus and will feature keynote speaker four-time Iditarod champion Dallas Seavey, as well as Van Hise and fellow scholarship recipient Schuyller Nagorski. Anyone interested in attending the luncheon is welcome: scholarship donors and recipients, alumni, staff, faculty, CPTC Foundation supporters and community members, however attendees MUST register online by Friday, April 14. Attendees are invited to donate to the Foundation and guarantee continued scholarship support for students in future years. Online registration is available here.