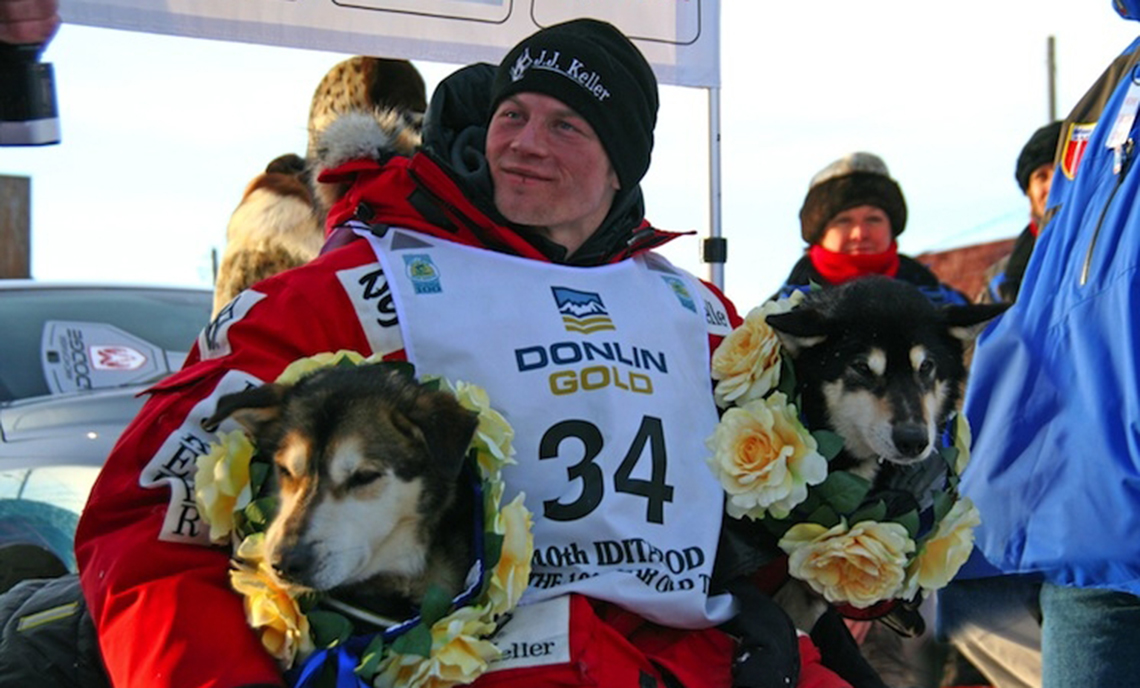 Historic Iditarod Champion to Keynote Scholarship Luncheon
March 30, 2017
For Dallas Seavey, everything revolves around maximizing the talent of his team. While others focus on the resume of a man who, at 30 years of age, is already one of the most successful mushers in Iditarod history, he focuses on making sure everyone operates at peak ability.
Seavey has won four of the last six Iditarods, including three in a row from 2014-16, and he finished second in this month's race. He is one of a select number of four-time winners of the annual long-distance sled dog race from Settler's Bay to Nome Alaska.
Seavey will be the keynote speaker at the Clover Park Technical College Scholarship Celebration Luncheon on April 18 in the McGavick Center. He will share some of his experiences in one of the most unique sporting events in the world. It's been a test of resilience, focus and maximizing opportunities, something CPTC students can relate to within their own experiences. And it all boils down to being willing to question and change anything in an effort to improve.
"We have to be willing to question our most fundamental knowledge, and that's scary," Seavey. "When your entire process is built on one principle, you have to be willing to reassess that principle and see if it's still accurate for the team you have. As we learn more about nutrition and health care and training methods, we always have to make sure that base information is still accurate."
The Iditarod began as a competitive race in 1973 with a ceremonial start in Anchorage and teams often racing through high winds and sub-zero temperatures. It's an extreme test of endurance and training lasting more than one week and covering nearly 1,000 miles. And Seavey is never content to rest on a formula that works, but is always looking for the next advancement.
"I think for me, the drive is really about perfecting the art of mushing," Seavey said. "We're always learning more; there's always new things to explore. I love the innovation side of things. As long as there are new things we can do to make the process better, the training better, finding better nutrition or vet care options to maintain better health, equipment improvements and more, that's really the joy in it for me. I want to do this as well as I possibly can and maximize my team each year."
Seavey first won the Iditarod in 2012, becoming the youngest winner in the race's history. He continues to race each year, spending 10 months in training for this one race in that constant effort to improve. Yet it's not necessarily about winning, as evidenced by his 2013 fourth-place finish.
"If you focus on maximizing and developing the team as the goal, the winning becomes a little less important," Seavey said. "Until just recently I'd say the best race I ever ran was a fourth-place finish in 2013; I feel like I most completely fulfilled my goal of maximizing that team. That team simply wasn't a winning team, but I feel like we did a really good job of developing a lot of young dogs, and they had an amazing race. That same team came back and won the next three Iditarods in a row."
Seavey comes from a family of mushers, growing up in Alaska helping train dogs for his dog's competitive teams. And while the younger Seavey has won four of the last six Iditarods and is the youngest winner on record, his father Mitch won the other two years in that stretch and in 2017 became the oldest winner in race history. He also broke his son's 2016 record for fastest winning time (eight days, 11 hours, 20 minutes and 16 seconds) when he crossed the finish line in eight days, three hours, 40 minutes and 13 seconds. And the two previous years, the father finished second behind the first-place son.
"My dad's one of if not my best friend," Seavey said. "We get along very well. We both obviously are very deep into the same hobby and lifestyle, so there's very few people who understand this sport at the same level as we do. However, when it comes race time, we've finished first and second each of the last three years. When we're making minute adjustments to our training and equipment, we're hoping it will work to beat the other person."
Seavey's entire racing experience revolves around his relationship with his dogs. He is always attentive and flexible to ensure the health, safety and growth of his team. It's something he's done his entire life.
"Ultimately, the one thing I've always felt was my strongest suit was the connection with the team," Seavey said. "I know my team very well, and making sure you know your team well enough to be able to make the right adjustments for them and doing it without reservation is key. I don't care what schedule people think I'm going to run; I don't care what schedule I thought I was going to run. I'm going to take the information I see in my team right now and implement it right now, and we'll deal with the consequences later. I think that flexibility to do what's right for the team right now has always served us well."
Seavey's experience leading a racing team is inspiring, motivational and impressive. He is truly a historic figure in his sport, reaching the pinnacle of success and maintaining his status among the best to ever compete through constant innovation. And it's that desire that he will share with attendees of the Scholarship Luncheon on April 18.
"For me, what's going to drive me for the next five years or maybe 25 years is as long as there's still those exciting bends in the trail where there are new improvements that can be done," Seavey said. "If we ever get the perfect system, where everything is locked in and we just repeat this system and win every year, it becomes boring. It's the challenges that make it fun, not winning the race."
For more information about the 2017 Scholarship Celebration Luncheon, click here. Online registration is available here.