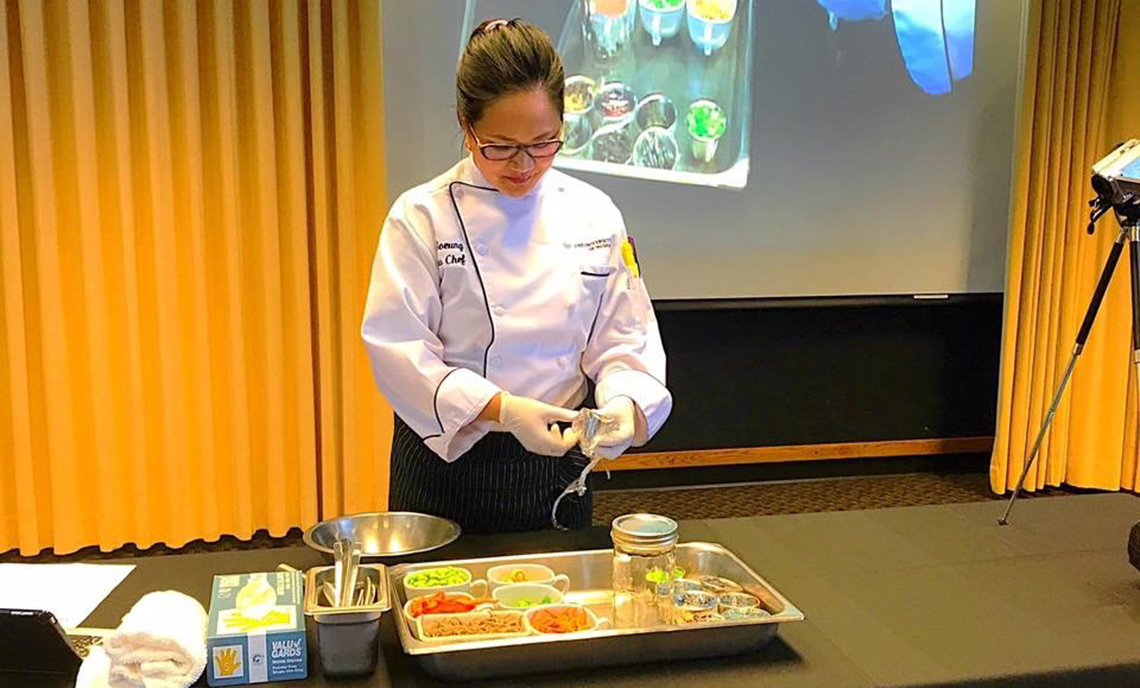 CPTC Support Helps Alum Achieve Culinary Dream
April 20, 2018
A little kindness and support can go be the difference between a student giving up or reaching their educational and career goals. That held true for Clover Park Technical College Culinary Arts alum Jo Soeung, and she looks to share that support in her own world and life.
Soeung, who earned her associate degree in Culinary Arts and Restaurant Management from CPTC in 2012, has worked at numerous restaurants in the area and recently began a new position as the Director of Food and Beverage Operation for Hilton Garden Inn. While her culinary journey has offered her a chance to meet and work with a wide variety of famous people, her time at CPTC continues to inform her approach to her career and life.
"This school changed my life, not only with education but with how I see people in my job: how to treat people with respect, how to retain employees, how to work side-by-side with employees and have loyalty and dignity," Soeung said. "Every aspect comes back to what I learned here."
Soeung grew up in Baguio City, Philippines, before coming to the Puget Sound region as a teenager when her father was stationed in Lakewood. After originally pursuing a degree in nursing, Soeung married and had a daughter. Health problems due to premature birth kept Soeung at home for six months to care for her child, providing the time to reflect and reevaluate her own career pursuits.
"My parents wanted me to be a nurse, but I didn't," Soeung said. "My grandma's a chef, and I feel like cooking has been in my life all along, but I hadn't really acknowledged it. I decided I really wanted to do something that I wanted."
She began looking for culinary programs at schools that could support her Veterans Affairs benefits and enrolled at CPTC. However, midway through the program life got in the way. She found herself working numerous jobs and caring for her daughter in the midst of a divorce and realized she could not maintain the workload. However, when she went to CPTC instructor Chef Dean Massey to tell him she would have to put her education on hold, he instead worked with her and arranged for her to come to school early to get the extra support she needed to complete the program.
"He did everything he could to accommodate me," Soeung said, "and I'm very grateful for that. Chef Massey and (former CPTC Restaurant Management instructor) Mr. Jolly never gave up on me. They knew what was going on with me, and they gave me support that not many people gave me at that time. They understood and wanted me to succeed and believed I could do something good in the future."
With the extra support, Soeung finished the program and pursued a career that has taken her to numerous restaurants in the area. Eventually she settled in as a banquet chef at the Westin Bellevue, where she worked for five years. As other job offers came along, she remained at the Westin due to another lesson she learned from her CPTC instructors. Massey had emphasized to her the importance of the team and the value of working with and for people who genuinely care about and respect you. When she found that positive experience at the Westin, she wanted to stay and embrace it.
Eventually her desire to continue learning and growing led her to the University of Washington Club, a private social club on the UW Seattle Campus, where she worked as sous chef. After working at restaurants, hotels and in the corporate hospitality industry, the opportunity to work at a private social club appealed to her as a chance to learn something new while also working with a new group of professionals she could help grow as well.
"I'm not looking to get to the top of the totem pole," Soeung said. "I'm not trying to be that person; I'm trying to be the heart of the kitchen for the whole staff and be the source of proper guidance, leadership and support for the chefs of the future."
Soeung's dream is to help repair and fix failing food and beverage operations. She sees struggling restaurants and longs to provide the same assistance and personal support she's experienced in her life. That desire prompts her to serve in numerous volunteer efforts in the community, as well.
"We're lacking a lot of kindness in the world right now, and I really want to get involved and serve because it feels good and is something I've learned. It all comes back to what I've learned at CPTC and in my current line of work."
Just last month, Soeung had the opportunity to step into a struggling situation and focus her efforts on a revamp and relaunch of the Hilton Garden Inn. It's a chance that excites her, as it provides yet another situation to learn and grow through and a place where she can invest her efforts and "make something possible."
Throughout her career, Soeung has met and prepared food for an impressive list of celebrities, including famous chefs, musicians and professional athletes, as well as former President Barack Obama. But for her, everything comes back to CPTC and the care she received from her instructors.
"If I didn't get the support of Chef Massey and Mr. Jolly at that time, I don't know that I would be where I'm at right now," Soeung said. "They showed unconditional support and guidance and believed in me. That's when I started believing in myself. That's why I'm able to do what I do now. I have nothing but appreciation for this school and the instructors who inspire their students and who actually are going to be there when the going gets rough. That simple act of kindness goes a long way."
Share This Story