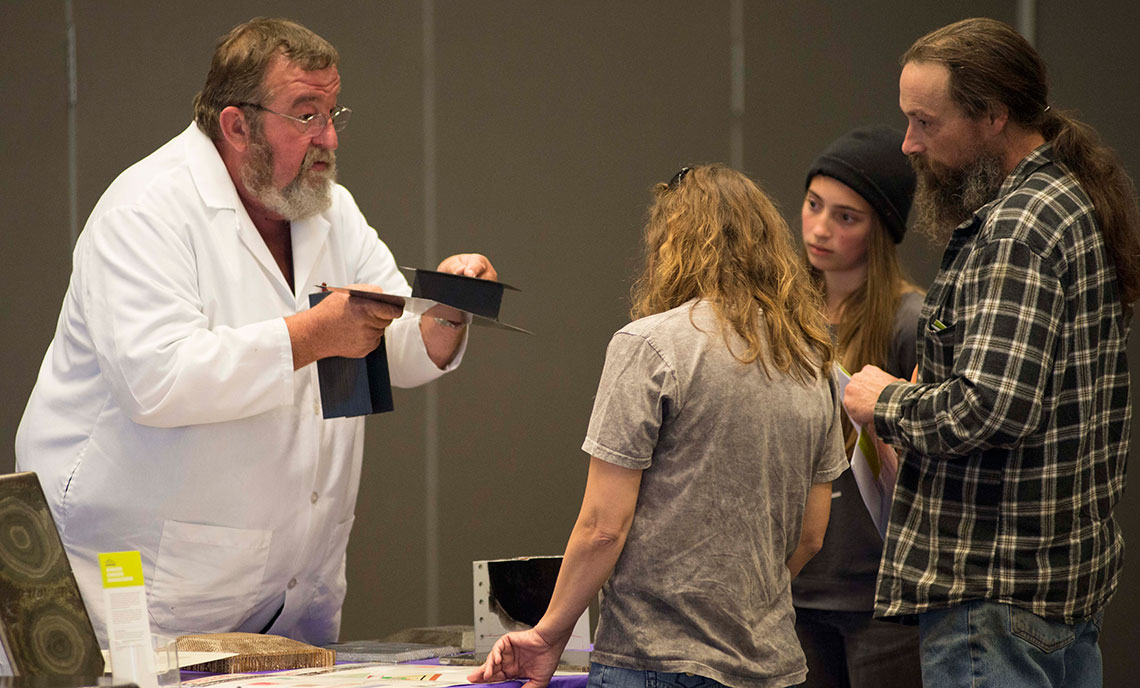 CPTC Welcomes Prospective Students to Visit Campus for Evening Open House
July 15, 2016
Clover Park Technical College successfully hosted its second Evening Open House Wednesday, welcoming hundreds of prospective students to visit the Lakewood campus and learn about the school.
The event was open to the public and was held in the evening to cater to working adults looking to find out more about the dozens of programs CPTC offers.
"This is really an opportunity for students to explore their options and get a feel for the campus, and for faculty to show off the good work we do," said CPTC outreach and recruitment coordinator Courtney Akinniyi, who was in charge of the event. "Every learner is different, so we offer a variety of programs to meet all their needs."
Additionally, there were enrollment and financial aid workshops, information for veterans, career interest testing and a gift card drawing.
"We are actually getting people enrolled right now," Akinniyi said. "And what's great about Clover Park is we never have any application fees."
Prospective students were able to learn about every program that appealed to their interest.
"They can check out as many programs as they want, which is great because we know our students have many passions," Akinniyi said.
Each program had a different workshop or presentation given by faculty and designed to give students an in-depth feel for the program.
Visitors also had a chance to meet their future professors and ask any questions they had.
"I was able to meet one of the professors, and they were very helpful," said Grace Thomas, a high school student planning to attend CPTC's Architectural Engineering Design program. "It was great getting to know more about the program and how many students get jobs after graduation."
Thomas' mother agreed.
"They were absolutely helpful — just being on campus and getting questions answered was great," Juzeine Thomas said.
Traditionally, other CPTC open houses and career fairs have been geared towards high school-aged students who often attend during field trips. CPTC sought to change this to meet every student's need when it held its first Evening Open House last fall.
"The thing that makes these open houses so different is that they are for the working adult, not just high school students," Akinniyi said. "We are always looking for ways to meet the needs of students and remove barriers for students, and this event does that."
Krista Courtney, a prospective Esthetics program student who enrolled during the open house, said she was very grateful for all the help she received at the event.
"Everything today has been excellent," Courtney said. "I'm now registered and was able to get help with financial aid. My sister goes to school here and she absolutely loves it, so I'm excited."
Perspective students weren't the only ones who enjoyed the event — student volunteers did, too.
"I volunteered because I really like Clover Park. I've been to two universities before this, and they just don't have the same good vibes I get here," said Erin Tracht, an Esthetics program student and event volunteer. "Also, I wish I had someone helping me when I was new to school, so this event is great."
Another way CPTC removed barriers for students during the event was by offering childcare at the campus's Hayes Child Development Center.
"In addition to this event, all students have access to use the childcare center and can feel at ease that they are on campus learning at the same time their child is," Akinniyi said.
Courtney said she was looking forward to getting her son enrolled as well.
"I'm hoping to get him in preschool here on campus, which will be perfect," Courtney said.
Akinniyi said the number of visitors in attendance is still being calculated, but during last year's Evening Open House 400 perspective students attended and 43 students enrolled.
The next evening open house will be held this fall. CPTC plans to hold open house events biannually: in the summer and fall.