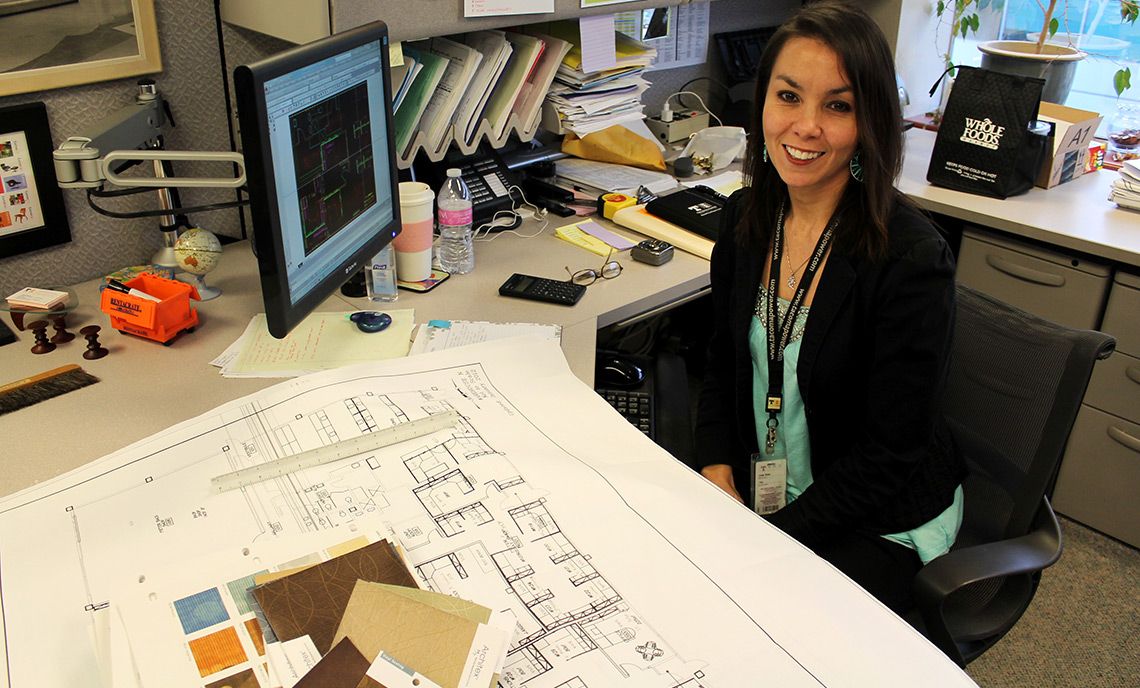 A Design Network
January 26, 2015
Linda Brent ('95) gained more from the Architectural Engineering Design Program at Clover Park Technical College than her degree. She formed bonds with her peers that helped pave her career path.
"You build camaraderie with your school mates and it carries on," Brent said. "You support each other, and I think that was a great part."
Thanks to a friendship formed with CPTC classmate Marci Moore, Brent was hired at Tacoma Public Utilities in 1999. Today, Brent manages all of TPU's interior space as the facilities planner. When employees move offices, re-do their cubicles, or receive new furniture, she coordinates the moves.
Fabric and print swatches currently sit atop her desk for her current project of planning the redesign of TPU's lobby. Next door to Brent's cubicle is Moore, who manages structural construction at TPU.
Brent's career aspiration started as a pre-teen when she wanted to be an architect. She said she burned out on school while at the University of Washington, and took a year off before enrolling at CPTC.
"I thought Clover Park was more practical," Brent said. "You can go to Clover Park and get practical skills and start working right away."
Soon after she graduated from CPTC Brent was hired at a small custom cabinet shop in Lakewood, where she used her knowledge of AutoCAD.
When Moore left her position with a commercial cabinet company for TPU, she referred Brent, who took over the position. Brent worked for two years before Moore referred her again, this time for an opening at TPU, where she was hired and has been ever since.
Brent started out as a drafter, drawing up mechanical, civil and electrical drawings, before she settled into her current position. Brent credits the Architectural Engineering Design Program for teaching her how to manage her time.
"At Clover Park everyone had their own schedule and [instructor Dean Lamb] didn't micromanage us," Brent said. "That's how it is here. We have a lot of projects and we're responsible for getting them done."
Soon after Brent started at TPU she became a member of the Seattle Sea Gals for three seasons. She was on the squad when the Seahawks played their first season in what is now known as CenturyLink Field.
Brent still keeps tabs on the Seahawks and is still active in dance as an instructor.
CPTC's Architectural Engineering Design Program prepares students in the field of residential design or a related technical field such as drawing for product manufacturers, contractors, engineers, or design firms.
CPTC alumni are encouraged to share their story at http://www.cptc.edu/foundation/share.