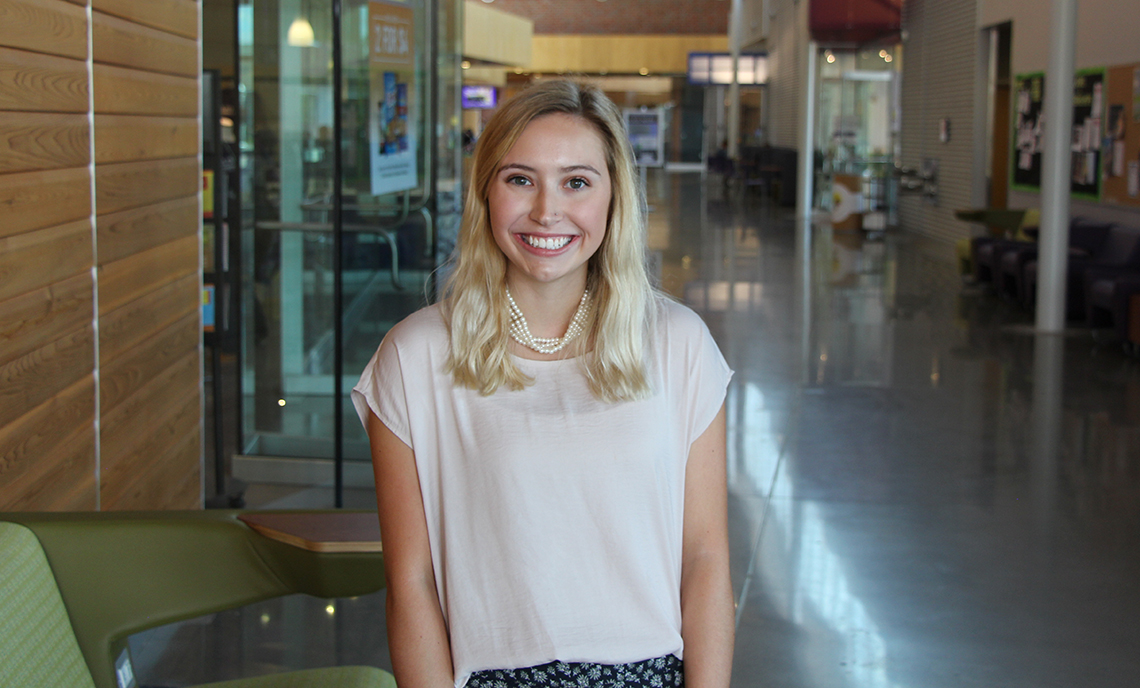 Interior Design Alum Turned Passion Into Career with CPTC and NWC&THS
January 5, 2018
When you discover your passion and a career path to match, it helps to have the opportunity to get a head start towards that goal. That's exactly what Krissy Gala did when she came to Clover Park Technical College and Northwest Career & Technical High School to study interior design.
"I've always been a pretty creative person and loved design, so I looked into Clover Park and realized interior design was exactly what I wanted to do," Gala said. "I read all about it and went to an info session and was very excited about the chance to go to school and do something that I just love doing."
Gala grew up in Tacoma and was attending Wilson High School when she decided to look into Running Start options. She found CPTC and ended up transferring out of Wilson into Northwest Career & Technical High School which, located on CPTC's Lakewood Campus, allowed her to earn her high school diploma and technical degree at the same time. She spent close a year-and-a-half attending school year-round before wrapping up her program in April 2017 and graduating in June.
"It was kind of a difficult decision because I knew that coming here I would be away from the friends I made and grew up with," Gala said. "But I knew that I would continue those relationships, and I was just ready to do something that was more challenging and something that I really enjoyed because I felt like I didn't have a lot of selections of classes that I truly loved when I was just going to a regular high school. I liked the idea that I could come here and take classes that I loved and it would advance me in my career and education."
Gala described the dual-study process as challenging, but she also pointed out some of the advantages in the system to assist students. She was able to take several core classes online that provided dual credit toward both her high school and college degrees. And while it was a new experience stepping away from the social group she'd known growing up, she said the experience was very positive.
"I didn't know anybody here, so it was starting fresh," Gala said. "Even so, everyone was really welcoming and helpful. They care about you as a person here; both my college instructors and high school teachers here made me feel really cared about."
In CPTC's Interior Design program, Gala was able to put her lifelong passion for drawing and design to work and explore new possibilities.
"My instructors always pushed me to do my best and become as creative as possible," Gala said. "I feel like the projects we were assigned to do really made me think outside my comfort zone, and it allowed me to discover all sorts of different styles that I maybe wouldn't have chosen to design or appreciate if I hadn't been given an assignment to explore that."
Shortly after earning her Associate of Applied Technology, Gala secured a job as a design consultant at Pental Surfaces. There she puts to use all the skills and knowledge she gained in the program.
"Now that I've graduated and have a job in the design field, it's allowed me to understand all sorts of different styles for people who come into the showroom," Gala said. "I'm able to see what they have and understand their ideas and what type of look they want to go for, and I can come up with something that looks good for that style. Even if it's not my preferred style, I know how to help other people come up with things that look great."
While the training helped prepare Gala for the job experience, she also highlighted ways the program helped her secure the job. As a student, she participated in a program field trip to the Pental showroom, giving her an initial connection and comfort level prior to seeing the job listing and applying. When she went in for an interview, she was able to showcase a collection of the work she'd done at CPTC.
"I showed them my portfolio that I created here at school, and they were extremely impressed," Gala said. "By the end of that night they ended up giving me a call and offering me the job, and I gladly accepted."
Looking forward, she hopes to eventually go back to school to earn her bachelor's degree and work in commercial design. And for anyone considering attending CPTC and NWC&THS, she offers a wholehearted endorsement.
"I recommend it to everybody who even asks me about it," Gala said. "I had such an amazing experience here from both aspects, doing the high school and the college. I think it's such a great opportunity because you're getting so much education packed into one. All of the advisors here were really helpful in creating my schedule and making it such a smooth process and allowing me to focus on both schooling aspects. I think from what I've seen here, every program has something really great to offer. I've never heard anybody complain about Clover Park."