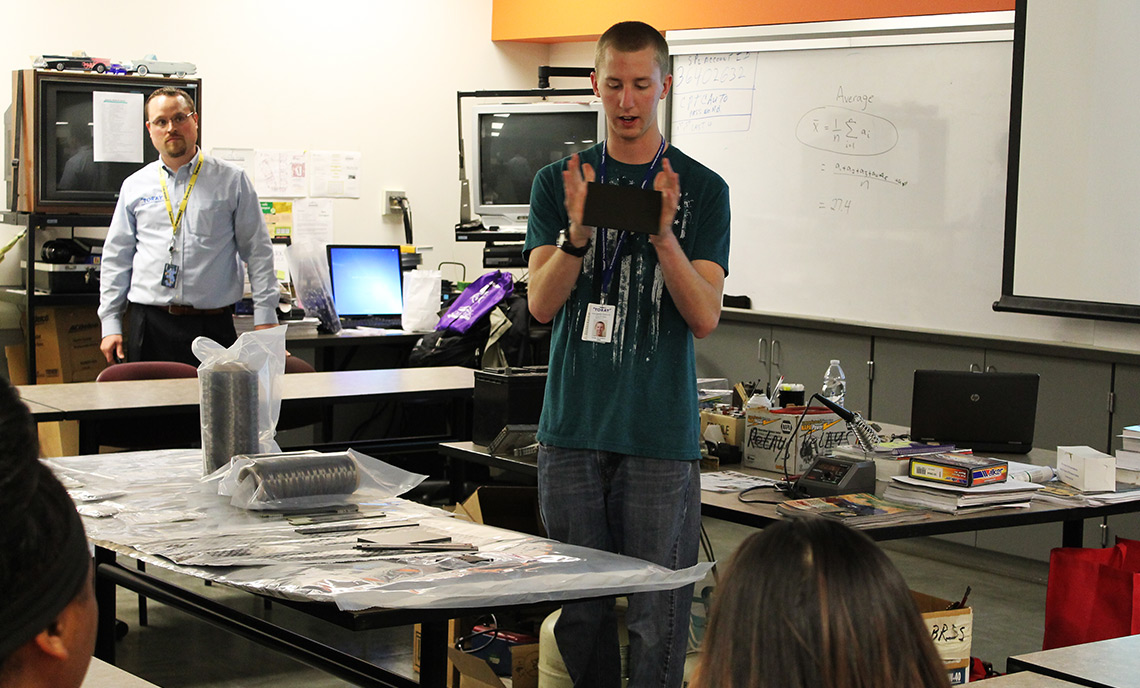 'Math is What You Do'
October 9, 2014
More than 800 middle school students visited Clover Park Technical College's Lakewood campus Oct. 9 for the annual Math Conference.
The eighth grade students heard from a variety of local presenters about how math is used in the real world. One of the presenters, Toray Composites, included a recent CPTC graduate of the Aerospace Composites Program.
After Cody Schwenn graduated in December 2013 he found work doing composite repairs on aircraft parts for Allflight. With his heart set on Toray he made his move at a job fair.
"I was extremely impressed," said Jay Berndt, assistant test lab manager at Toray. "He had his credentials and had researched the company."
When Schwenn returned to CPTC for the Math Conference he described to the young students how important math is in the composite field.
"I measure hundreds of samples a day," he said.
Other presenters included Ben Spradling, director of communications and marketing for the Tacoma Rainiers, who talked baseball and math. Joint Base Lewis-McChord C-17 pilots taught students how to calculate a plane's descent, and CPTC instructors shared how math is used in the College's programs.
The Washington State Patrol, Home Depot and Aerospace Joint Apprenticeship Committee were just a few of the more than 20 presenters.
Rashad Norris, director of community engagement at Highline College, opened the event by encouraging students to be involved in school. Nationally acclaimed speaker Dr. Arthur Benjamin performed mental calculations faster than a calculator with his "Mathemagics" presentation.
The event was sponsored by BCE Engineers, Inc., Brink & Sadler and McDonald's.
Share This Story