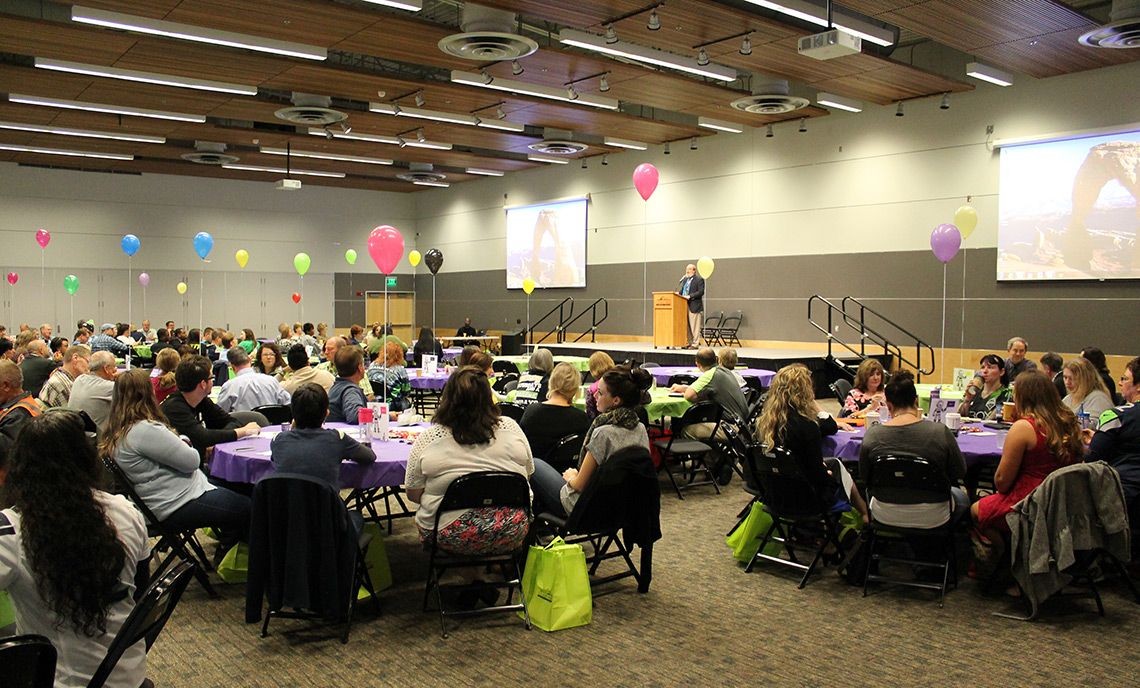 Opening Day 2015: Operation Student Success
September 21, 2015
Clover Park Technical College staff and faculty celebrated the start of a new academic year with the college's annual Opening Day event Sept. 18 at the McGavick Event Center.
With the theme "Operation Student Success," the event focused on the college's efforts to help students succeed.
Dr. Lonnie L. Howard delivered a presidential update, covering his first two years of tenure as CPTC president.
"We're marching forward in a positive direction," Dr. Howard said.
Highlights from the 2014-2015 academic year include receiving approval for 7-year reaccreditation by the Northwest Commission on Colleges and Universities, becoming the first two-year college in Pierce County to offer a bachelor's degree, developing an online admissions application, implementing department chairs, and completing a $1.2 million renovation of the Student Success Center in Building 17.
Opening Day included a student success panel of four current and former students who shared their experiences at the college. Vice Presidents Larry Clark, Dr. Joyce Loveday, Ted Broussard and Tawny Dotson participated in a "Next Big Things for CPTC" panel to provide updates on the college's strategic priorities.
Staff and faculty participated in moderated best practice discussions with topics ranging from communication to work-life balance.
The event concluded with staff and faculty awards made possible by the CPTC Foundation. Grant Development Manager Richard Hines received a Staff Fund for Excellence Award, and English instructor Terry Heath and Dental Assistant instructor Hannah Precour received Exceptional Faculty Awards.
Hans Herrmann of Puget Sound Energy presented Dental Assistant instructor Roberta Wirth with the Distinguished Faculty Award.
Fall Quarter started Sept. 21.