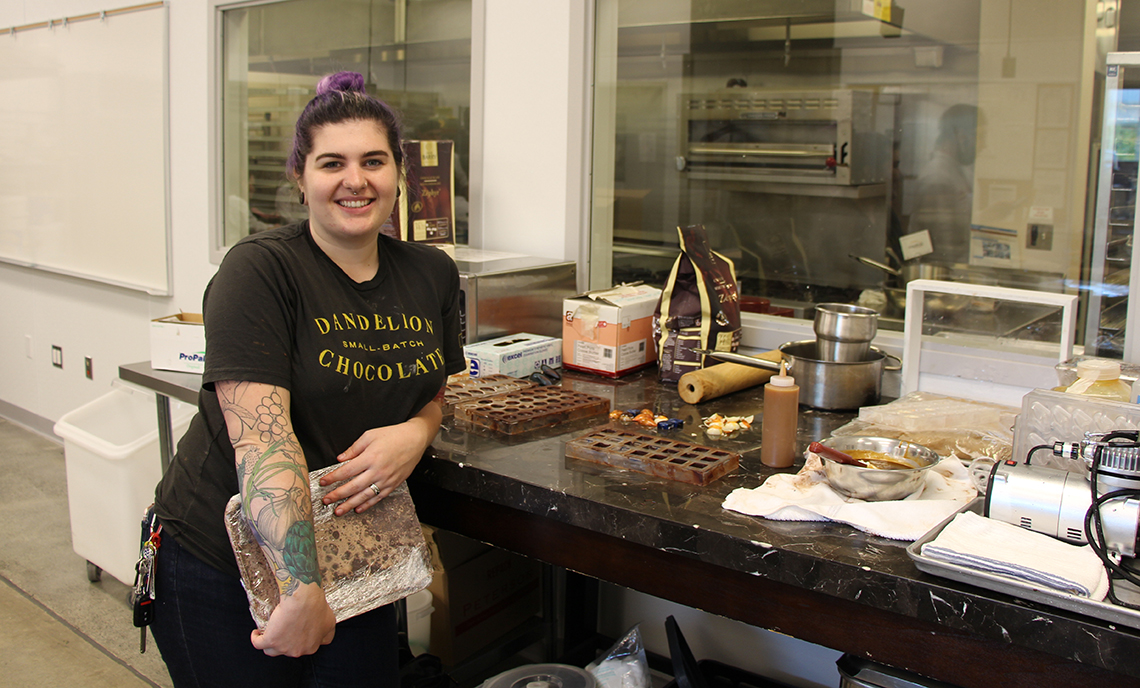 Pastry Arts Alum Explores Creativity with Chocolate
September 28, 2018
Many people love chocolate, but few take that passion to the level of Mollie Stewart.
Stewart, a 2014 Clover Park Technical College Pastry Arts alum, uses chocolate to make beautiful – and delicious – art.
"I'm just kind of experimenting with different flavors and different toppings, and I want to bring some delicious craft chocolate to Tacoma," Stewart said.
Chocolate provided the perfect venue to combine passions for Stewart, who attended Western Washington University for Studio Arts before realizing she wanted to pursue a career in pastry arts while working as a baker. A Tacoma native, she came to CPTC for the Pastry Arts program while her husband attended the Culinary Arts program. Right off the bat, her creativity led her to a whole new level of experimentation.
"Mollie was one of those students who was continuously curious," CPTC Pastry Arts instructor Shelley Newman said. "She worked hard and pushed herself."
The style of the program allowed for Stewart to express that creativity and try new things.
"The Pastry Arts program was great," Stewart said. "Chef Newman leaves it really open so we can focus on what we want to learn while still learning the basics of everything. We're able to dabble in everything, and I was really able to kind of pinpoint what I wanted to study and learn without feeling pigeonholed into something else."
For Stewart, inspiration came through images on social media and a desire to try something just for the sake of seeing if it worked (or if she could replicate something she saw online). Her instructor helped promote that curiosity.
"Chef Newman would be like, 'All right, let's figure it out; let's do it,'" Stewart said. "It could be anything I wanted, and she would help me find a way to make it happen – crazy sculptures or just totally bizarre flavor combinations or recipes."
Once she graduated, Stewart moved to Chicago for an internship opportunity. After several months working six days per week for the internship in multiple restaurants, she shifted into a full-time position and her husband joined her out in the Windy City. After two years – and probably millions of bon-bons and various other desserts made – they were ready for a change and decided to move to Nashville so she could work at Olive & Sinclair Chocolate Company. That introduced her to a whole new world of chocolate possibilities.
"I fell in love with the process of making bean-to-bar chocolate," Stewart said. "I already knew I loved making beautiful, colorful little bon-bons and stuff. So now I get to do both, and I love doing both."
Each step of the way in her career journey, Stewart's knowledge blossomed. So did her culinary tastes as she experienced the different food cultures of the Midwest and South. She began to incorporate those varieties into her own ideas for desserts.
"When I left here, due to the environment of encouraging us to learn and try crazy things and do new things, I just left here really hungry to continue learning," Stewart said. "That pushed me into the workforce to learn more and different cuisines and techniques and ask questions. I really feel like I've ended up well-rounded in my career despite having found a specific focus."
Last spring, they decided they were ready to move home to the South Puget Sound area. That gave Stewart the opportunity to begin a new venture with her own company while also reconnecting with Clover Park.
"A really valuable part of CPTC is that the classes are so varied. We had people ranging in age from 17 years old up to their 60s. A lot of people had experience owning their own businesses. It was really great to be learning alongside people who already had some real-life experience."
Stewart is now the owner and head maker for Defiance Chocolate Company in Tacoma. While the company is just beginning, her goal is to provide a vast array of flavor options inspired by her travels and the Pacific Northwest.
Meanwhile, she regularly visits the Pastry Arts program back at CPTC, where she shows current students some of the skills she's gained during her career. That also provides her a laboratory with her instructor once again and another group of fellow bakers where she can continue to experiment. Newman appreciates the value having an experienced alum available to students provides to the learning process.
"I think it brings a lot more depth to the program," Newman said. "There's a different relationship student-to-student than teacher-to-student. When you have an alum come back who's done what the students are doing and can share the experience she's gained over the past four years, there's a whole different perspective the students can get and appreciate."
After a career journey that took her across the United States, Stewart is home. Now she can share what she learned with students back in her old program and with the community through her Defiance Chocolates.
Share This Story