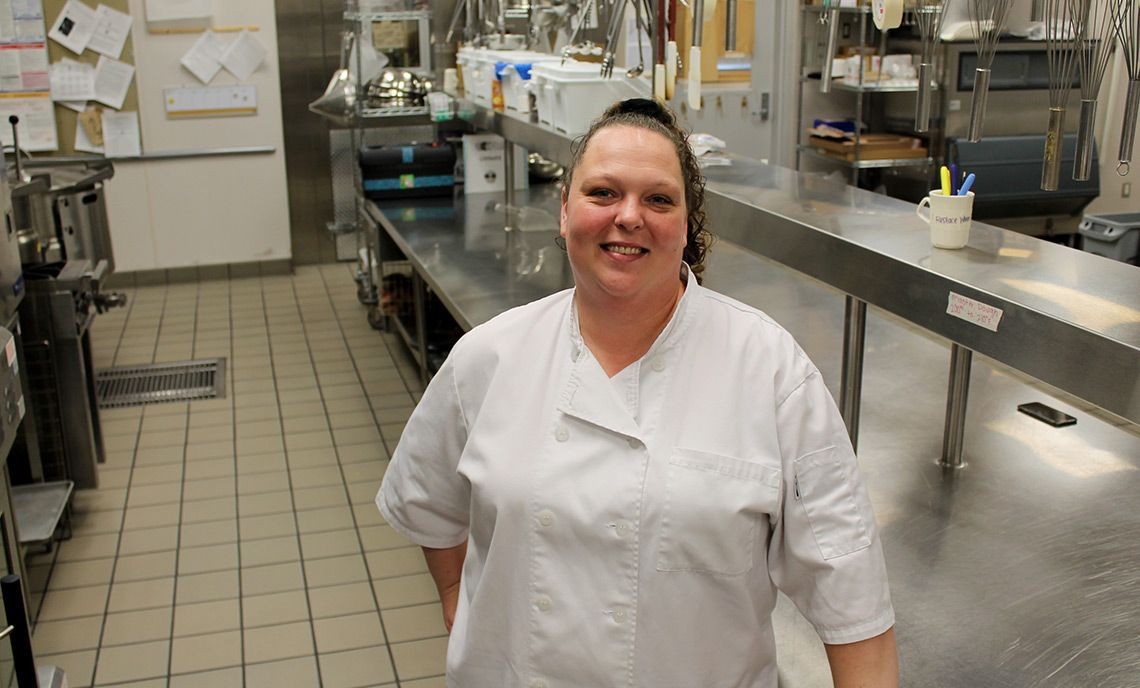 Pastry Arts Grad Does Stint in France, Whips Up New Career
October 14, 2015
Before Jennifer Phillips put her Pastry Arts Degree to use in the local industry, she took the culinary skills she acquired at Clover Park Technical College to France.
After Phillips completed the Pastry Arts Program in 2013 she lived in France to train under a pastry chef and immerse herself in the culture. As an intern she learned the French way of desserts, and brought the experience back to Pierce County.
"I could see how Old World France has set up what we do today," Phillips said.
From a training kitchen at CPTC to a pastry kitchen in Europe, Phillips has welcomed the experiences that education has presented her.
After a lengthy career in the casino industry, where she spent 11 years at the management level, Phillips sought out a career change soon after becoming a mother. Phillips was driving along Steilacoom Boulevard in front of the Lakewood Campus one day when a Pastry Arts Program announcement caught her eye on the electronic reader board.
She followed up with a visit to campus on Nov. 10 that year – her 33rd birthday – to take placement exams and register for the program.
"That was the best birthday present I could ever give myself, an education," she said. "I knew I was making the right decision."
Phillips thrived in the program and as it came to a close, her instructors encouraged her to seek the opportunity of interning abroad. Phillips is glad they did.
"I grew stronger because I was able to prove to myself and my daughter that you can do whatever you want," she said.
Soon after returning from France, Phillips was hired to work at a small local cafe because of her management background. Her path then led to a part-time position at The Gourmet Niche, a commercial kitchen space.
In her role as kitchen manager, she has expanded her repertoire of culinary skills by providing assistance to the companies utilizing the kitchen space. She has worked with catering companies, a cake artist and a farmers market vendor.
While part-time at The Gourmet Niche, Phillips also became the bakery manager at DuPont General Store, where she used her creativity to create weekly and monthly dessert specials. She was there for a year before she became full-time at the commercial kitchen.
Phillips is still very much connected to CPTC, where she helps cover shifts at Bon Sucre Bistro and is a substitute instructor. She's thankful for the instruction she received at CPTC and wants to return the experience to other students.
"If I can do for one person what these people have done for me, I'll come back every day," she said.
CPTC alumni are encouraged to share their stories at http://www.cptc.edu/foundation/share.