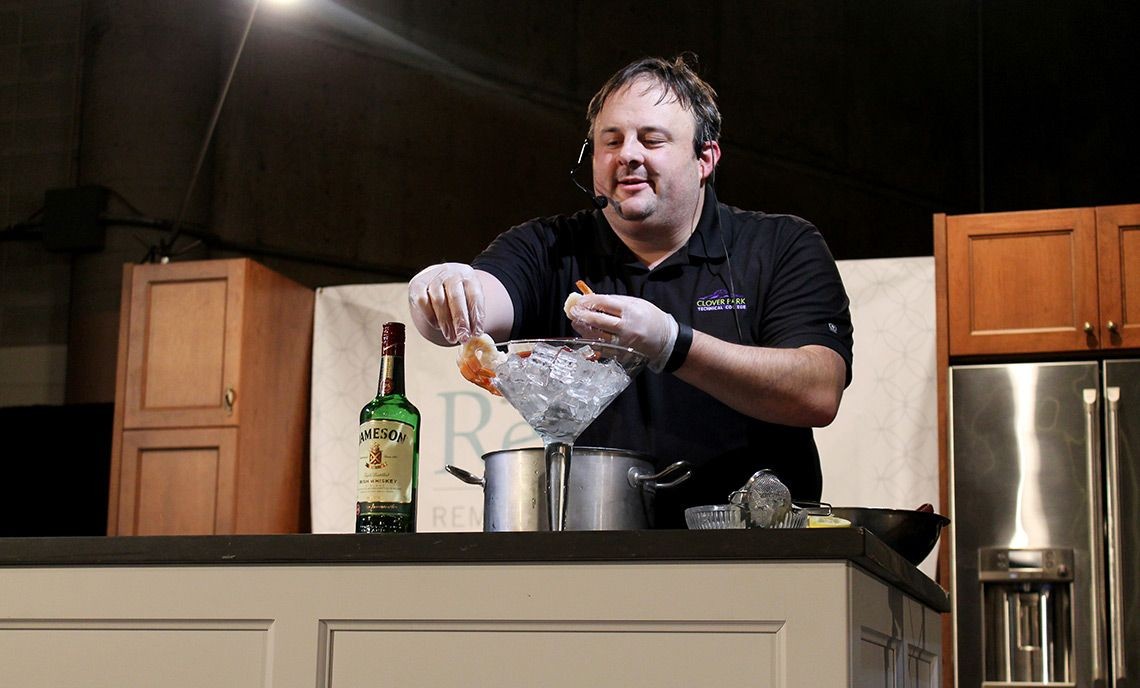 Shrimp Cocktail, Reinvented: Chef Instructor Shares Popular Recipe at Holiday Show
October 28, 2015
Is your holiday menu in need of an easy-to-assemble appetizer?
Clover Park Technical College Culinary Arts Instructor William Jolly shared a go-to recipe at the 33rd Annual Tacoma Holiday Food & Gift Festival at the Tacoma Dome on Oct. 22.
Among hundreds of booths and vendors, Chef Jolly was center stage for the 2015 Holiday Cooking Program, where he demonstrated to an audience how to craft the perfect shrimp cocktail.
The cooking program featured more than a dozen presentations, including one by Chef Jaron Witsoe, a recent CPTC Culinary Arts graduate and now sous chef at The Lobster Shop on Commencement Bay.
Chef Jolly demonstrated how to cook the prawns and prepare the cocktail sauce for his holiday appetizer. Once tasked with catering an Irish-themed private event, Jolly was inspired to put a Gaelic twist on the traditional cocktail sauce. His secret ingredient? Irish whiskey.
During his demonstration, the chef had an opportunity to inform the audience about CPTC's student-operated restaurant, The Rainier Room, which is open to the public. When the food was ready, Jolly showed the audience how to plate the cocktail for a party and then invited everyone to come forward for a sample.
Chef Jolly's Perfect Shrimp Cocktail
For the prawns
Ingredients:
24 prawns deveined, shells on
1 teaspoon sea salt
1 Tablespoon Italian seasoning, dried
1 gallon water
You'll also need:
Cheesecloth
Large bowl with ice and cold water
Directions:
Place water and salt in a large pot and bring to boil.
Place the Italian seasoning in the cheesecloth. Tie the ends of the cheesecloth together to make a pouch. Place in boiling water.
Add deveined prawns to pot of water at rapid boil. Be sure to stir the prawns once in the pot of water.
When shrimp is cooked, drain and rinse under cold water. Place prawns in bowl of ice and cold water and refrigerate until completely cooled.
Remove prawns from ice water and remove shells from prawns, making sure to leave the tails attached.
Place the prawns back in the refrigerator until ready for service.
For the cocktail sauce
Ingredients:
12 oz chili sauce
1 Tablespoon prepared horseradish
1 teaspoon garlic, granulated
Juice of one lemon, freshly squeezed, with pulp and seeds removed
2 Tablespoons Irish whiskey
Directions:
Blend all ingredients and refrigerate until ready for service.
Share This Story