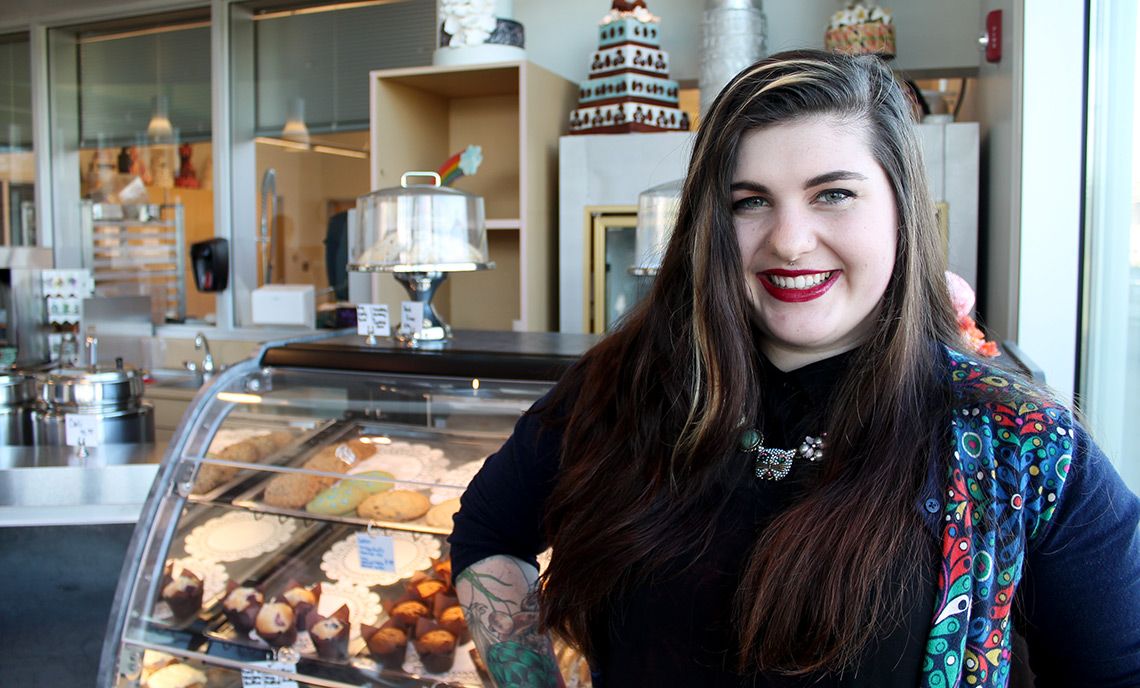 A Sweet Side of Chicago
February 6, 2015
Mollie Stewart knows to reach big dreams she has to take big steps.
A graduate of Clover Park Technical College's Pastry Arts Program, Stewart took a major first step to Chicago last fall, where the aspiring pastry chef was hired at Nico Osteria, an authentic Italian seafood restaurant.
After a successful three-month internship on the pastry line, Stewart was hired on and will relocate from Tacoma to her new home later this month.  Her husband, Rob Stewart, is finishing CPTC's Culinary Arts Program this quarter and will join Mollie in Chicago, where he will also get his start in the industry.
"Food is big in Seattle, but not the kind of food we're trying to do," Mollie Stewart said. "For our careers and where we want to go, it was a very smart move. This opportunity is good for both of us."
While a pastry student, Stewart had her heart set on a restaurant in Washington, but when she learned the establishment didn't have a full-time pastry chef she expanded her network.
She was offered the opportunity to be a pastry intern at two locations in Chicago and flew out last September for the three-month position.
Two days a week she did prep work at Black Bird, a fine-dining establishment, and the other three days she worked on the pastry line at Nico Osteria. Stewart made elements of desserts and put the dessert plates together to serve to customers.
"I got really comfortable and familiar doing a lot of tickets every night," she said. "It was intense at first but I really got into it."
As her internship wrapped up she learned a permanent position was created for her at Nico Osteria. Stewart returned home in January to start the process of packing their home for Chicago, where they have committed to at least two years.
While in town Stewart stopped by CPTC's Lakewood Campus to speak to current Pastry Arts students about the importance of determination and networking.
"I see this industry as you get out of it what you put into it," she said. "If you work really hard you're going to get somewhere."
Stewart enrolled in the Pastry Arts Program after she worked a year in a bakery, but she was unsure of what she could learn that she didn't already know. Program Instructor Chef Shelley Newman's diverse background in bakeries, hotels, restaurants and cake decorating gave Stewart a broader understanding of the career.
Stewart said the realistic job training of making desserts for CPTC's Bon Sucre Bistro and serving customers in the college's student-operated restaurant, the Rainier Room, provided invaluable real-world experience.
"In talking to people I work with, making product for people is not something a lot of culinary and pastry schools have," she said. "This program is great because you learn a little bit of everything, but it's up to you to learn as much as you can."
Stewart plans to continue her education in Chicago by studying viticulture. Now that the 24-year-old pastry cook has her foot in the door in the industry, she has her sights set on her next big goal: being recognized by the James Beard Foundation by age 30.
CPTC alumni are encouraged to share their story at http://www.cptc.edu/foundation/share.
Share This Story