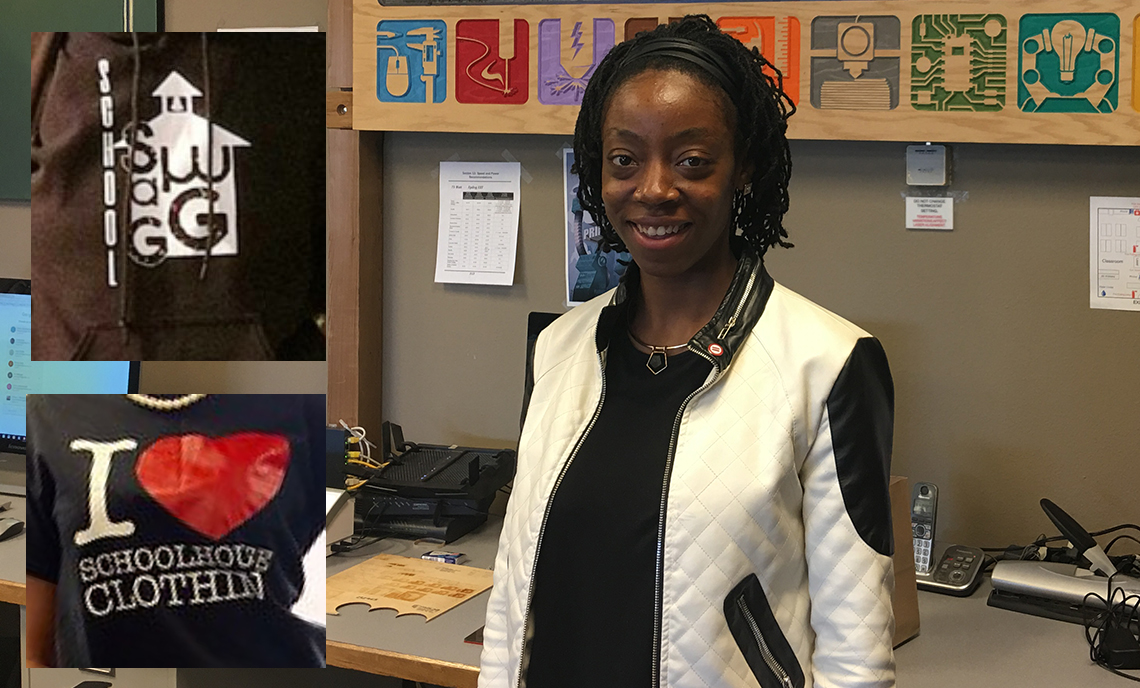 T-Shirts Just One Way CPTC Alum Gives Back
December 23, 2016
The holiday season and the end of each year provide a time for people to reflect and give back, and Clover Park Technical College Danielle Perkins takes that idea to heart.
Perkins, a 2012 CPTC graduate, is the founder of Schoolhouse Clothing and partnered with the CPTC Foundation to provide t-shirts for the #GivingTuesday campaign in November. She credits her desire to give back to her experiences as a CPTC student.
"From the time I came on campus, I kept looking for ways to get involved," Perkins said. "One of my professors, Dr. Phil Venditti really pushed the agenda that it's important to give back to your community and plug in. He really believed in the mantra that student involvement equals student success, and he was really a force in getting me involved."
And Perkins got involved. After struggling with traditional education structures while growing up, she earned Dean's and President's List recognition at CPTC while also participating in Phi Theta Kappa and serving as a senator in Associated Student Government. Her educational success struck a sharp contrast to her childhood challenges, which included being held back and temporarily enrolling in an alternative school.
"At that point I had a problem with authority and was acting out," Perkins said of her childhood. "With that background, I never would've guessed that I'd have recently graduated with a Master's. That's such a remarkable achievement for me and my family."
Perkins praises her CPTC instructors for giving her that push and being "just really passionate, taking the initiative above and beyond to get their students involved." That push helped her develop a drive for success that continued following her graduation from CPTC. She earned her bachelor's degree from Evergreen in 2014 – working two jobs while attending school full time – and took only one year to earn a Master's in Educational Leadership from Concordia University in Portland.
"I had such a support system behind me that pushed me into developing a sense of self, giving me a voice, giving me motivation and determination that I could actually accomplish these goals. And I did," Perkins said.
In her minimal downtime during that process, Perkins soaked up anything she could find to learn about t-shirt campaigns and starting a small business. She began Schoolhouse Clothing in 2012 and has been building it ever since, but it's not merely a clothing line. The entire vision behind the line is based in education.
"Schoolhouse Clothing is a t-shirt line to promote education awareness," Perkins said. "The vision is to use money from shirt sales to provide scholarship opportunities for students and enhancing school programs."
Her partnership with the CPTC Foundation helped promote #GivingTuesday, which surpassed its fundraising goal. She works with a local designer and t-shirt company to create the shirts, and she's always looking to improve the process in hopes of minimizing costs and maximizing opportunities to give back. But even with Schoolhouse Clothing looking to build and put out a new line in the near future, Perkins has aims on giving back even beyond that.
"Ideally with all of those degrees, I just want to create my own niche," Perkins said. "Right now I'm working on a life coaching program working with high school and college students focused on transitioning into the workforce. My goal is to help each person who comes to see me figure out what they want to do, and I want to help them build a strong portfolio about their vision and goals and help them find the right job opportunity."
Perkins also is working with the community radio station at Evergreen, speaking with faculty from local schools about education and empowerment. She wants to find any and every way to help students overcome challenges and earn the education that can make all the difference in their lives.
"I do believe that education is the key to success," Perkins said. "You have so many options of ways to go to school, but it is so important to find a way to gain an education."