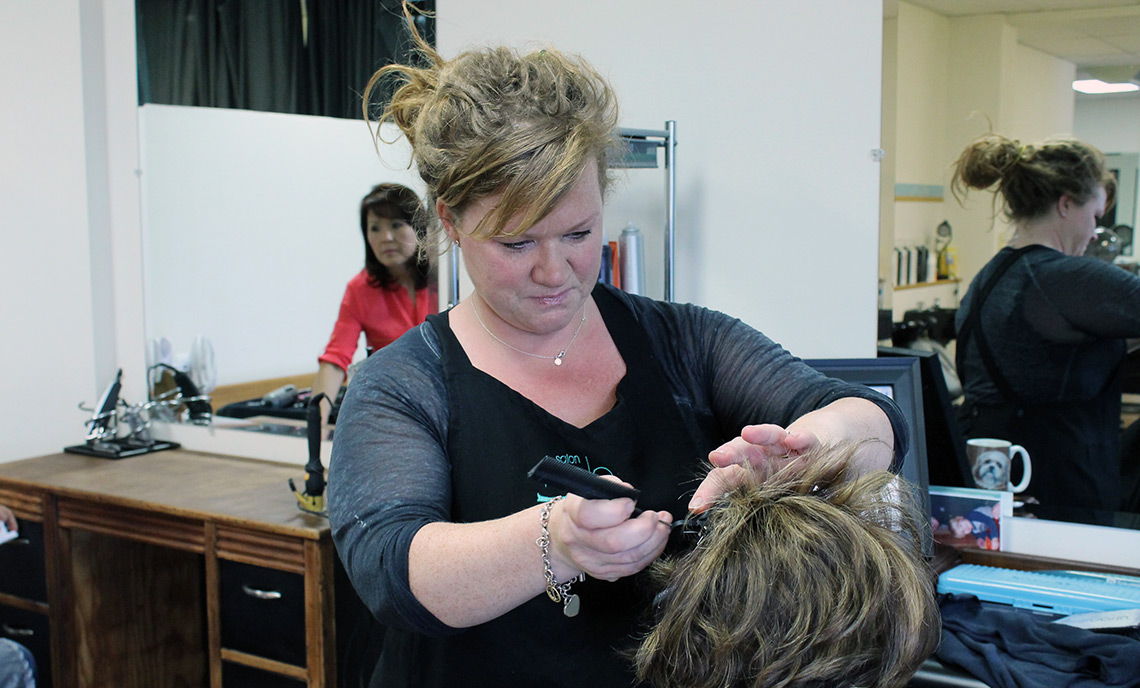 Cosmetology Couple Finds Love and Success after CPTC
May 13, 2014
When Heidi and Cody Traicoff enrolled in Clover Park Technical College's cosmetology program in the mid-1990s, they didn't know they'd finish school with more than their applied technology degrees.
The aspiring stylists also found each other in the program that prepared them for their successful careers.
Encouraged by her mother, Heidi enrolled at Clover Park Technical College, where her mom's cousin, Connie Lind, is an instructor. One quarter later, 17-year-old Cody Traicoff enrolled in the program, where he was just one of three males in the class.
The couple started dating after Heidi finished in 1997 and Cody in 1998. They worked at local salons right out of school and were married in 2000.
"Clover Park was amazing not only because I got to meet Cody, but it's like family there," Heidi said.
Heidi and Cody merged their clientele 10 years ago when they opened their business, Salon Halo, on Portland Avenue in Tacoma. The mini-spa salon offers hair services, massage therapy, facials, waxing and lash extensions.
Heidi said she felt prepared upon completion of the cosmetology program 17 years ago, but continues to learn on the job.
"I think you never get out of hair school," she said. "You can still hear in the back of your head what you're doing and what you should be doing. Our industry changes so much, you have to stay current."
Cody benefited from the professionals he learned from while at Clover Park Technical College. He said he learned best by following their example.
"I was lucky enough to have patient teachers," he said. "I was a young student and needed guidance."
The Traicoffs named their first born daughter Clover, not after the school, although that is a common misconception, but because 'love' is in the middle of the name. Those who know the couple wanted them to name their second child, a son, Parker or Park in honor of where they met. Instead the couple named their two sons Token and Truce.
Share This Story