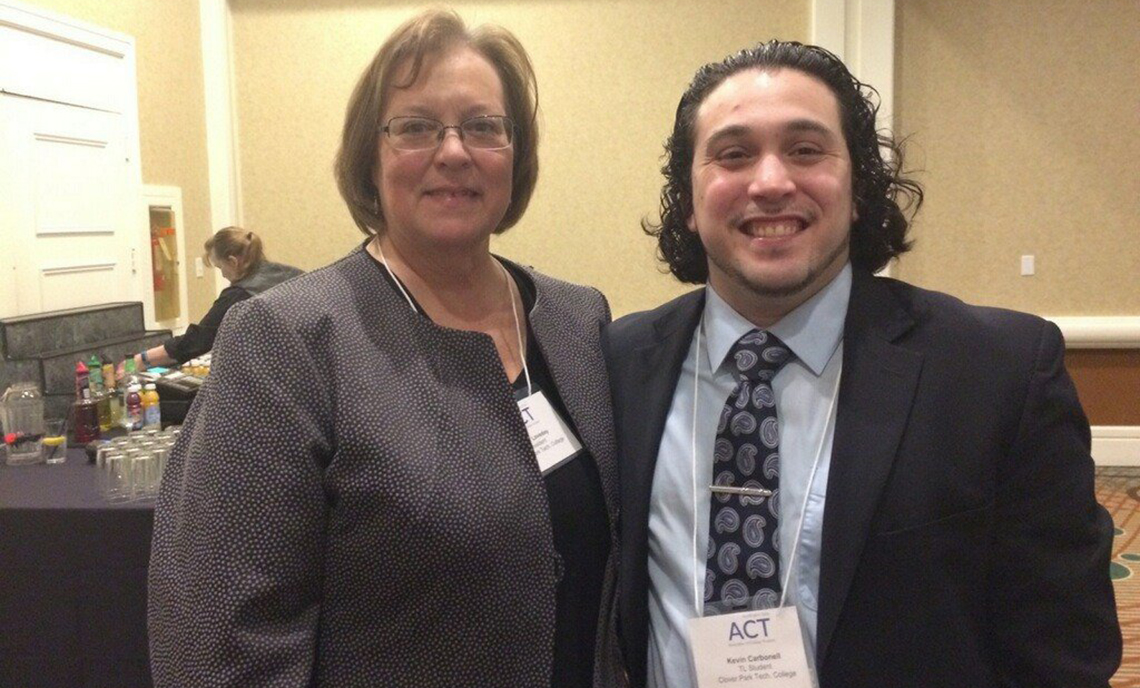 CPTC Alum Honored at Transforming Lives Dinner
January 26, 2017
Clover Park Technical College graduate Kevin Carbonell attended the 2017 Washington State Association of College Trustees (ACT) Transforming Lives Awards Monday evening as CPTC's honoree for recognition.
"It was a great honor to be nominated and represent Clover Park Technical College at the Transforming Lives Dinner," Carbonell said.
Carbonell graduated in June 2016 from CPTC with a degree in computer programming and web development after maintaining a 4.0 grade point average throughout the program. The coursework added to an already-full schedule as Carbonell worked full time and had two grade-school-aged children at home.
"When my name was mentioned and I received my Transforming Lives Award, I couldn't help but think about all the faculty staff from CPTC," Carbonell said. "I couldn't be more thankful for the great instructors from the CPWD program. They helped me overcome all the obstacles I ran into, and challenged me to reach my potential as I pursued my associate degree."
In Carbonell's application statement for the honor, he singled out CPWD instructors Joseph Ortiz and Kenneth Meerdink for the roles they played in his positive experience at CPTC. He wrote that "they always went the extra mile to help me understand what was being covered in their classes. Their knowledge and overall caring personalities helped set the foundation for my success."
CPTC President Dr. Joyce Loveday joined Carbonell at Monday's ceremony, which included a dinner and a recognition of honorees as part of the ACT Winter Conference.
"Completing a certificate or degree that leads to new employment opportunities has a transforming impact on an individual's life," Loveday said. "Kevin is a clear example, as the trajectory of his life changed when he chose to pursue a career in computer programming. We're very proud of Kevin and the success he has achieved. Kevin excelled as a student and was quickly hired as a new graduate because of the skills and attitudes he possesses."
During Carbonell's final quarter in the CPWD program at Clover Park, he was selected for a competitive internship at Symmetra Financial in Bellevue, where he was eventually offered an extension to his internship. In November he was hired as a business analyst at Symmetra.
"I felt very proud of what I had accomplished to help get me to this position as I met the other nominees," Carbonell said. "It was inspiring to hear all of the obstacles that the nominees overcame to reach their educational goals."
Carbonell plans to continue his education, as he's pursuing a Bachelor of Applied Science in Application Development at Renton Technical College. He hopes to complete his BA and earn a master's degree as well.
"My kids were also a great motivation for me to go above and beyond just graduating," Carbonell said. "I wanted to become the best I could be, and help give back as much as I received from attending CPTC. My strong educational foundation and second home will always be at Clover Park Technical College. I am proud to be a CPTC alumnus."
The Transforming Lives recognition and dinner ceremony served as a fitting reminder of all Carbonell worked through to earn his degree from CPTC.
"The dinner ceremony will be an experience that I will cherish for the rest of my life," Carbonell said. "Special thanks to the Board of Trustee members who nominated me for this award. They truly helped make my dream become a reality!"