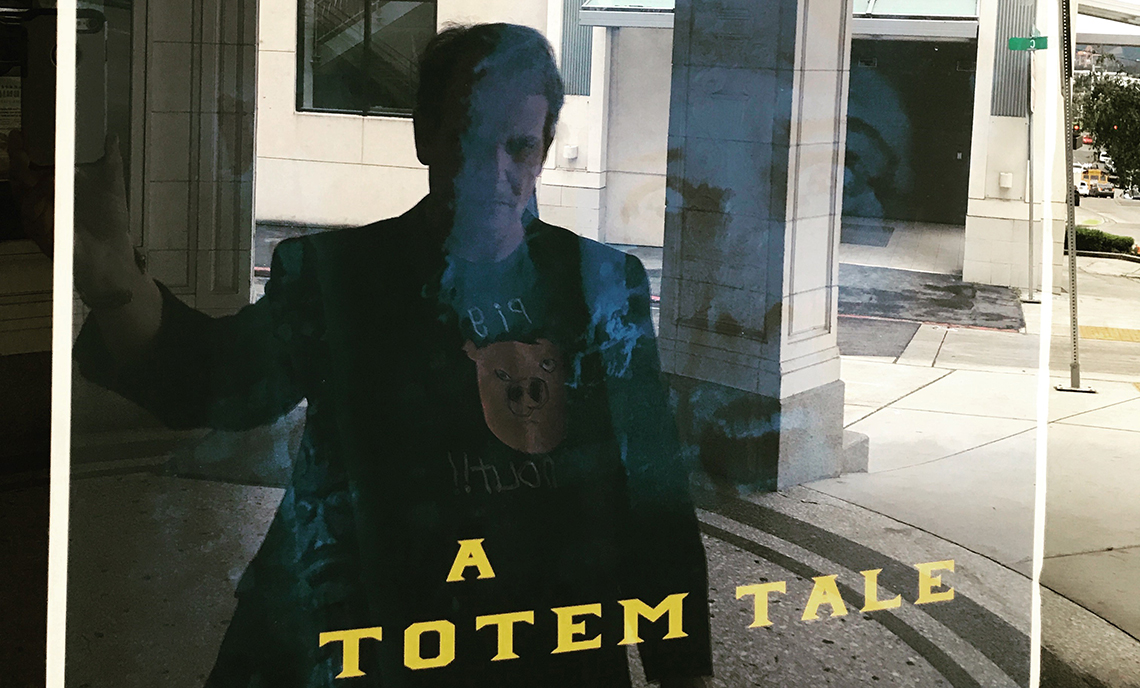 CPTC Alum's Documentary Set to Screen with Historic Film
June 7, 2017
Ninety years after the original release of Tacoma-shot feature film "The Eyes of the Totem," the film will again grace the screen of Tacoma's Rialto Theater. The journey it took to reach this point is the subject of the documentary "A Totem Tale," which will play prior to the movie screening and was created by Clover Park Technical College alum Mick Flaaen.
The double-feature event is set for Friday, June 9, with the documentary set for its first public showing at 6 p.m. and the original film following at 8:30 p.m.
"The more I dug into it, the more I realized this was a big subject," Flaaen said about the documentary project.
Flaaen's film journey began in 2009 when he came to CPTC for the two-year Media Design Production program. An injury had prompted back surgery and the need to pursue a different career path, and that gave him the opportunity to pursue his dream.
"I knew I wanted to get into some kind of media and filmmaking because it had always been a passion, but there weren't any film schools locally," Flaaen said. "I really looked at Clover Park because of the staff and the two-year program that offered a very diverse sense of making films, and I realized it was the closest thing I could do to going to film school."
At CPTC he gained the skills needed to be a filmmaker and established relationships with collaborators that continue today. He created a pair of films, "Welcome to Parkland" and "Paint," during his time as a student. The latter was about graffiti in Tacoma and was picked up by Facebook's online film festival. When a reporter asked Flaaen about his ambitions in the film industry and he mentioned doing features in Tacoma, the reporter responded that it had been tried years ago.
That piqued Flaaen's interest.
He finished his CPTC program in 2011 and began attending University of Washington Tacoma the following year. Meanwhile he began researching and discovered Weaver Productions, a massive film studio built on five acres near Titlow Beach in the 1920s. H.C. Weaver had worked in the film industry in California and decided to make the formula work in the Pacific Northwest. The result was three feature-length silent films between 1925 and 1928: "Hearts and Fists," "Eyes of the Totem" and "Heart of the Yukon."
While the films were a success, featuring Hollywood stars and a director who would go on to find fame and acclaim in W.S. Van Dyke, the studio folded once the industry shifted toward sound movies. It was thought that no Weaver Production film footage still existed.
"It was so strange; I'd never heard anything about it," Flaaen said about Tacoma's film history. "I'd never heard anyone talk about it. I was in a local history class at UW and I decided to do a project on the film history of Weaver Productions."
All of his research led to artifacts and information, and he considered putting together a documentary. Then in 2014, the big break came when Tacoma's Historic Preservation Office discovered that a complete copy of "The Eyes of the Totem" had been found among the papers of W.S. Van Dyke in New York's Museum of Modern History. Five reels of fragile nitrate film changed everything.
"It occurred to me – now I can make this documentary," Flaaen said. "Now it has this hook with the film coming back and we have a built-in story."
The Tacoma Historical Society helped fund the costs to bring the film back to Tacoma, and a group of committed individuals nicknamed "Team Totem" focused on what it would take to restore and re-release the film.
"This was a community-based studio in the '20s; they actually sold public stock shares to the company," Flaaen said. "So 88 years later, in 2015, we started a Kickstarter fund to raise money to hire a composer to add music to the film, do some work to restore the film and rent the Rialto Theater and show it to the community."
The project raised more than $27,000 in 60 days, and the restored film premiered at the Rialto later that year. Now, 18 months later, the documentary "A Totem Tale" is ready for a pre-release screening with a cut tailored for a local audience. Following Friday's screening, Flaaen plans to tighten a bit for wide release.
Flaaen is the founder and owner of Mariposa Productions and plans to continue with other projects. His own production company is yet another result of his time at CPTC, when he settled on the branding and began using it for his student projects even before officially creating the business.
"When you go to Clover Park, it's all geared toward you becoming a part of the workforce," Flaaen said. "One of the things we did was start acting like we were professionals by basically making up a production company. We came up with a name and started using it in the credits. The instructors wanted us to start thinking like we were a company with an entrepreneurial mindset."
Several of his team members share his educational roots, including fellow CPTC alumni and a pair of his former instructors. Ninety years after the heyday of the Tacoma film studio documented in Flaaen's film, he's carrying on the region's film tradition with his own productions.
For more information or to purchase tickets to Friday's double feature, click here.