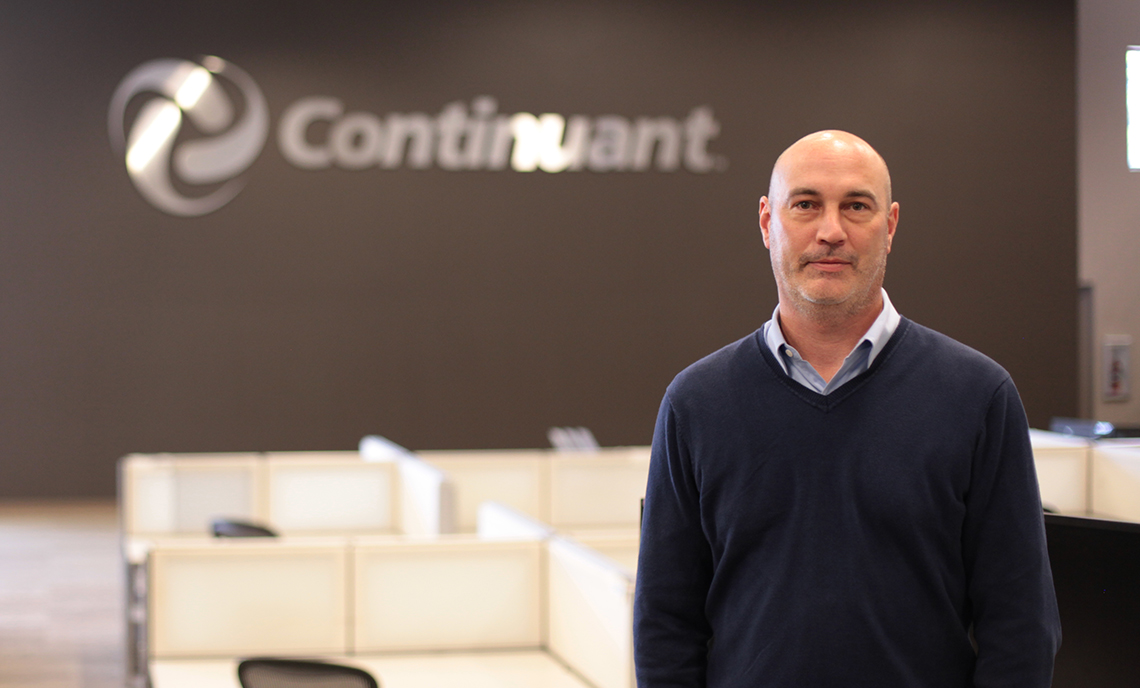 CPTC Program Helped Alum Find Communications Career
April 26, 2018
In 1996, Steve Peterson interviewed with a small company when the founders came to meet with students in the Clover Park Technical College Convergence Technologies program. More than 20 years later, he is one of the longest-tenured employees at Continuant and has turned his technical training into a lifelong career.
Peterson grew up in Tacoma and attended Mount Tahoma High School. After giving the traditional college experience a shot, he discovered that he "wasn't very good at reading books and writing papers about the books." After going to work at a sawmill in Tacoma, he qualified for the Timber Retraining Benefit and had an opportunity to pursue workforce training.
"It was a really good benefit that paid for my tuition and gas to get to campus, as well as all my books and tools," Peterson said.
He knew several friends who had gone through CPTC's Convergence Technologies program – which eventually merged into the college's current Computer Networking & Information Systems Security program – and had enjoyed it and were making a living in the industry. So it seemed like a good opportunity and an easy fit.
The program took about 14 months, and Peterson found the learning style he was looking for. Then one day the owner of a small company at the time called Telecom Labs, Inc., which had just launched a few months earlier, came to class to interview the students. They selected a few to come to their offices for a second interview, and Peterson was hired in December 1996. About 10 years later the company name was changed to Continuant.
"The thing about Continuant that was great and a perfect fit for me was that they didn't want to hire me to be a cabler, which was where a lot of folks had to gnash their teeth and get started," Peterson said. "You cabled before you really did anything else back in the day there. But these guys were going to train me on different manufactured products that they were selling, and they were going to let me program an install. That was what I wanted to do."
Peterson called the company "a pretty small shop back then," recalling that he was "employee number seven, and it was mainly all family in the first six spots." Now Continuant employees around 300 people.
Early on, Peterson worked on-site doing hundreds of smaller installs as a technician. After several years, the company began to grow and work on bigger companies, including Providence Health in Everett and Children's Hospital in Seattle. He eventually transitioned from the on-site technician role into a remote engineering position. Today he is a Senior Avaya Engineer, and he spends his time troubleshooting complex system integrations and keeping up with ever-evolving technologies.
"Now I work at a desk and log into things all over the world," Peterson said. "It's a fantastic place to work, and it really was a blessing to be hired on. The most rewarding part of my job is fixing things; that's always been my knack. It's always really rewarding to solve complex problems and work with the team to accomplish that."
Peterson considers CPTC key in his career experience, both in terms of providing the training necessary for his work but also for the networking opportunity.
"The technical schooling piece provided a great foundation," Peterson said. "Even back then, the technology was changing at the time, and it helped connect me to the employer. I doubt I ever would have had the chance to interview with Continuant without Clover Park. That definitely opened the door."
As for anyone else considering the technical college experience, Peterson encourages pursuing that route.
"I would recommend it because of a couple things. It provides a great foundation, the instructors are fantastic, and you have an opportunity to be put in front of employers."
Visit Continuant's website for more information about Continuant or career opportunities with the company.
Share This Story