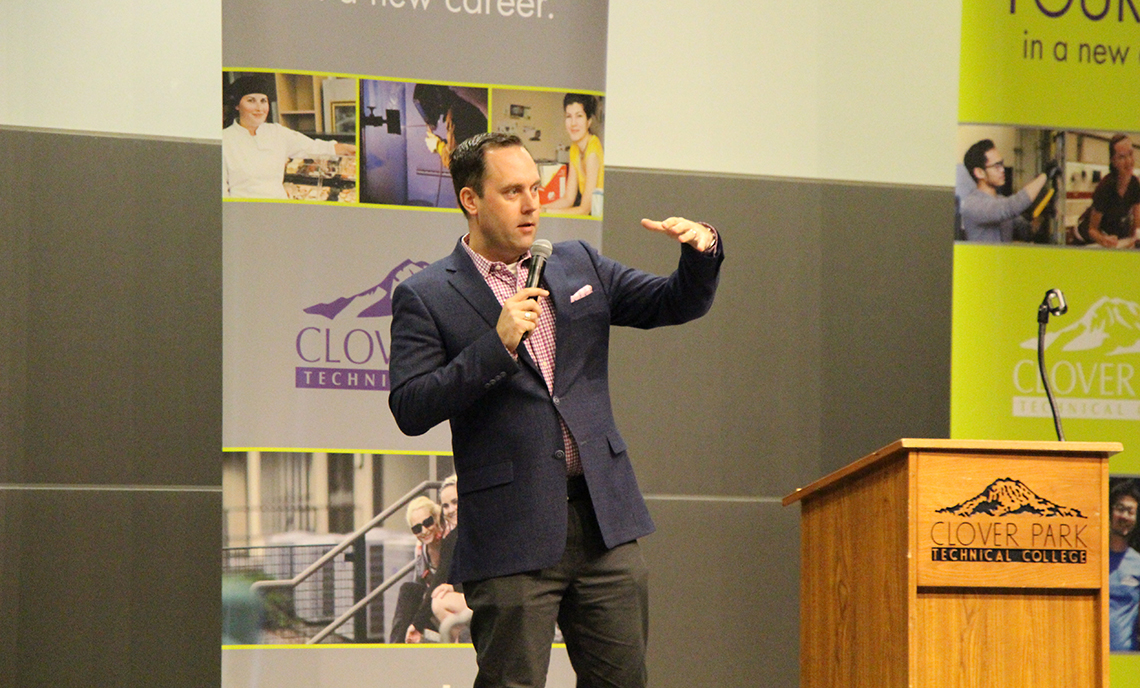 CPTC Radio Class Helped Spark Award-Winning Career
June 30, 2017
Chris Daniels has never forgotten his roots. As he's traveled the world reporting the news and become an award-winning journalist for KING 5 in Seattle, he always makes sure to give credit where it all began.
Midway through his time at Curtis High School in University Place, Daniels had the realization that his athletic career was coming to an end. His body simply would not cooperate, and it was time to consider the options.
"I had been an early sprouter, so to speak, and dominated in sports when I was younger and then got dominated and injured as my high school time was wrapping up," Daniels said. "Right around my junior year, I wondered what I could do to still be involved with sports and be around high school sports since my body just kept getting banged up, and that was radio."
After finding out about a sports broadcast class offered at Clover Park, Daniels signed up. That decision became the first step toward his future career.
"It was one night a week where you learned how to do play-by-play sports broadcast," Daniels said of the one-quarter course. "I was in there with about a dozen others learning how to do radio play-by-play, and we actually went out on Friday nights and did local high school football games broadcast on the Clover Park radio station."
But Daniels didn't stop there. Going into his senior year, he wanted the opportunity to call Curtis High School games. So he took his game tapes and contacted Clay Huntington at KLAY Radio and was told to find a producer and make it happen. That's exactly what Daniels did, selling air time and using his tapes to convince people to buy in. When fall came around, Daniels was calling Curtis football games for KLAY.
"I credit Clover Park with giving me that confidence and experience to go out and take the next step," he said. "I don't know where I would have been able to get that experience anywhere else locally, to actually take a class and learn a little about the radio business and make those connections."
By the time Daniels headed to Washington State University, he was ready to take his experiences to the next level. He earned his first paying TV job as a freshman at WSU, spent several years in Idaho and Michigan and returned to the Puget Sound at KCPQ in 2000. Three years later he joined the KING TV team, and he's been there ever since. His career has taken him across the globe covering the Olympics and all around the country covering sports and news.
"I've had a chance to interview politicians and famous people and all that stuff over time, and you can kind of become numb to it at a certain point," Daniels said. "It's fun sometimes to take a step back and know that you get to talk to these people on a regular basis and ask questions for people on a regular basis because you do have that access. I've been fortunate enough to be involved in numerous big stories and travel all over."
In 2015, Daniels was named the top reporter in the 13-state Western United States region by the Associated Press Television and Radio Association. While his job as a journalist has him constantly on the move, he continues to make his way back to the South Sound when he has a chance. For the past several years he's emceed the Metropolitan Development Council Share Breakfast, and in April he returned to the Clover Park campus to emcee the 11th Annual CPTC Foundation Scholarship Banquet.
"My roots are always going to be in Pierce County," Daniels said. "Between Clover Park, KSTW and the late Rod Simons – who invited me in and was a mentor to me in Tacoma back when the station existed and did news – and Clay Huntington and KLAY, they were kind of my building blocks to go out and do more in radio and television."
Daniels' experience serves as a reminder that sometimes all it takes is that one step to help set your course. His personal drive combined with the skills and experience gained in his one class at Clover Park nearly 30 years ago served as the foundation of a tremendous career. And he hopes the next young person in Pierce County can follow that example.
"Get the experience and don't be afraid to pick up the phone and ask questions," Daniels said. "I never thought I'd be in television news; I thought it might be radio or sportscasting. But never be afraid to pick up the phone and pursue your dream or the opportunity because you never know where you may end up and where that positive opportunity may be."