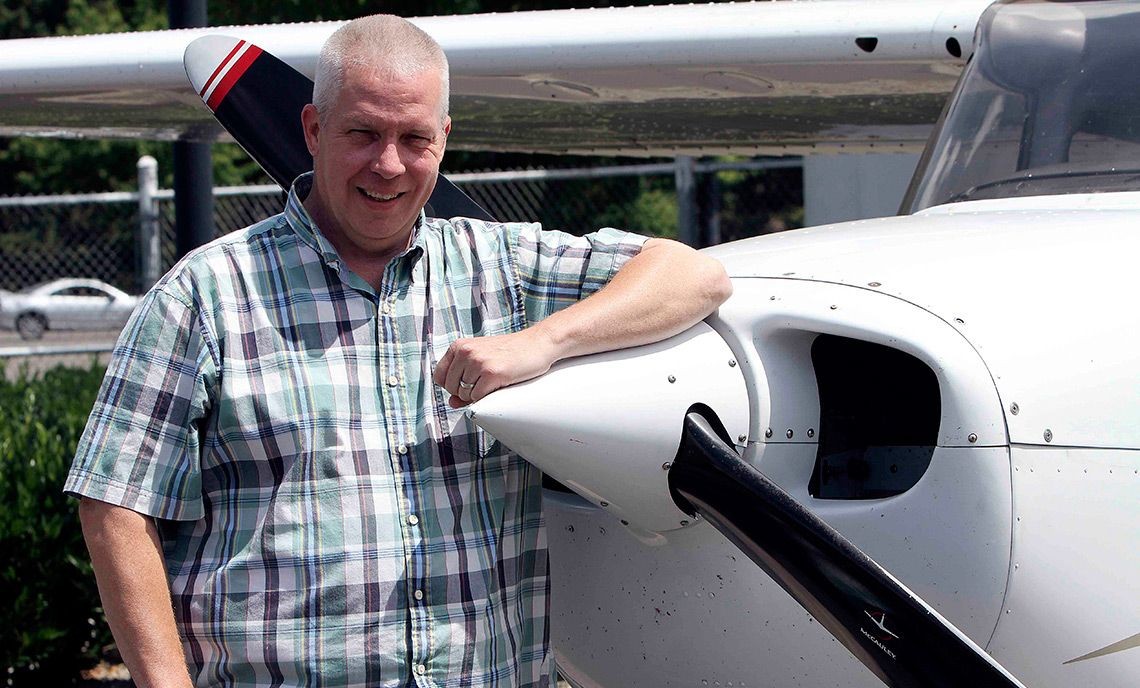 Earning His Wings
July 20, 2015
Lee Giles III enrolled at Clover Park Technical College in 1998 to fulfill a childhood dream.
After leaving his profession as a firefighter/paramedic, the former Marine found CPTC in the phone book and used remaining VA benefits to enroll in the Professional Pilot Program.
"It's opened the door to adventure, to a life's goal and this place made it happen," Giles said. "I'll never forget my roots here."
Giles obtained his private pilot license and instrument rating, and was well on his way to earning his commercial pilot certificate when he left early to manage a paramedic service. He left CPTC in 2000 with 261 flight hours. His pilot aspirations were grounded.
Giles' passion for aviation never left, and 15 years later he's ready to finish what he started.
After 20 years as a firefighter/paramedic, Giles switched career paths to photojournalism. He's the staff photographer for The Peninsula Gateway in Gig Harbor and The Puyallup Herald.
It was while covering an aviation assignment that he was introduced to the Fosdick Flyers, a group of social aviators that meet weekly. Giles was invited to join the group, and after a nearly 10-year absence, he returned to the cockpit. He is now up to 800 hours flight time, and plans to obtain his commercial license by the end of summer. He looks forward to returning to campus to tell his former instructor, Bill Coyner, he got it done.
He credits his time at CPTC for giving him a solid base of knowledge and experience that never left him.
"The college environment, the safety environment, the instructors, the culture, the aircraft, was amazing," Giles said. "That stuck with me when I started in 1998, and then when I left, it never went away."
Giles is nearing 13 years in his career as photojournalist, and in 2014 he joined the Civil Air Patrol. He feels at home with his "flying family," and hopes to become a flight instructor after he earns his commercial license.
"It's been a life experience that's given me tools to a greater purpose," Giles said. "It's not just flight school, it's life school. It was a realization of a dream from childhood."
For more information about the Professional Pilot Program, visit http://www.cptc.edu/programs/pilot.
Share This Story