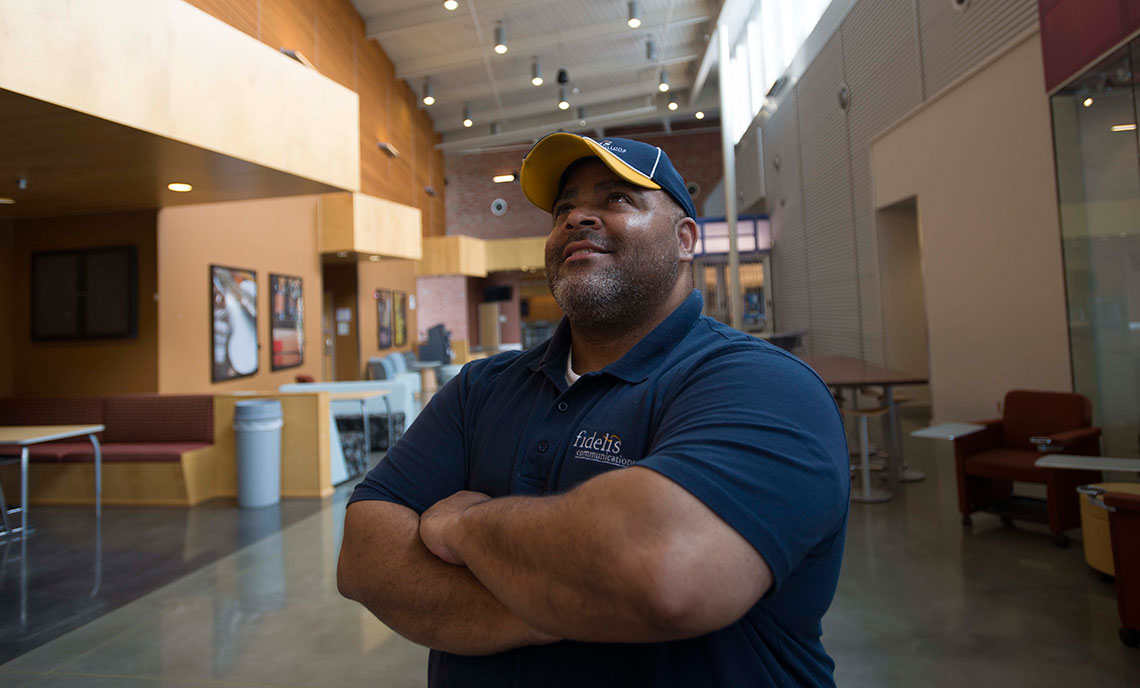 Forever Learning: CPTC Grad Takes Hold of All Opportunities
July 29, 2016
Despite being a husband, father, veteran and 20-year information technology worker, Martin Trinidad didn't let his busy life stop him from getting his degree and getting involved while a student at Clover Park Technical College.
Now a graduate for more than two years, Trinidad still recognizes a lot of friendly faces whenever he returns to campus.
"A lot of people know me here," Trinidad said.
This support network was really important for him while in school, he said. His key to success: accountability and involvement.
"I was very involved — that made the difference," Trinidad said. "Accountability is everything."
While at CPTC, Trinidad was served in Associated Student Government, was regional vice president of Phi Theta Kappa and president of the Veterans Club, to name a few. Trinidad was named to the 2014 All-Washington Academic Team and even won the 2014 Student of the Year Award.
"When you have accountability, it makes you stick with it," Trinidad said. "While at Clover Park I was working and very involved. That made accomplishing and finishing my degree more realistic."
Immediately after graduating CPTC with a degree in Computer Networking & Information Systems Security (CNISS), Trinidad was offered a position at Microsoft.
"Within three days of graduation I got hired at Microsoft working in a data center," Trinidad said.
Now, Trinidad works at a smaller company, Fidelis Communications, where he's in charge of knowing a vast variety of programs.
"There are so many variables to communications," Trinidad said. "A great instructor while I was at Clover Park, Ray Robinson, used to say 'if you stop learning, you stop living.' My job is learning 24/7."
The CNISS program at CPTC was a great foundation and taught him to have the skills to figure out things he may not be an expert at, he said
"We do a lot of learning on the job — you can't know every program and every system out there," Trinidad said. "At times you find yourself researching and learning something completely new."
Trinidad encouraged others currently going through the CNISS program at CPTC.
"It's a great career field that pays well," Trinidad said. It can be a regular job or a life-changing career — it's what you make it. Get a really strong foundation now because you will be working with a broad spectrum of systems. The average person doesn't know what it means to work in IT, so you have to be an expert at everything."
Getting involved in the community at CPTC helped allow Trinidad to turn his job into a career. He advises current and future students to do the same.
"Take advantage of the hands-on opportunities, explore and hone in on what your passion is," Trinidad said. "When you have people looking in, you have more avenues to help you succeed."
Trinidad said this is especially true during hardships.
"There are times you will experience setbacks, but the more heads you have helping the more solutions you have available," Trinidad said.
While at CPTC, many of Trinidad's hardships revolved around finances.
"Finances are a big hardship for students — me included," Trinidad said. "There are programs there on campus to help you, but they won't just come to you. You have to know they are available and have people help you."
His involvement helped him find ways to pay for school.
 "I was able to get grants I didn't have to pay back because of my involvement in Phi Theta Kappa," Trinidad said.
Trinidad said that nothing sets him apart from any other student at CPTC. Anyone can get the same support he did.
"I believe we all have the same opportunities. I had people watching over me because I allowed them to," Trinidad said. "If you haven't gotten the pattern by now: accountability, accountability, accountability. It helps you and the other person; it's a symbiotic relationship."
Trinidad doesn't plan to stop with his associate degree. In the future, he not only wants to get his bachelor's in computer science and master's in communications, but also wants to start his own business.
Share This Story