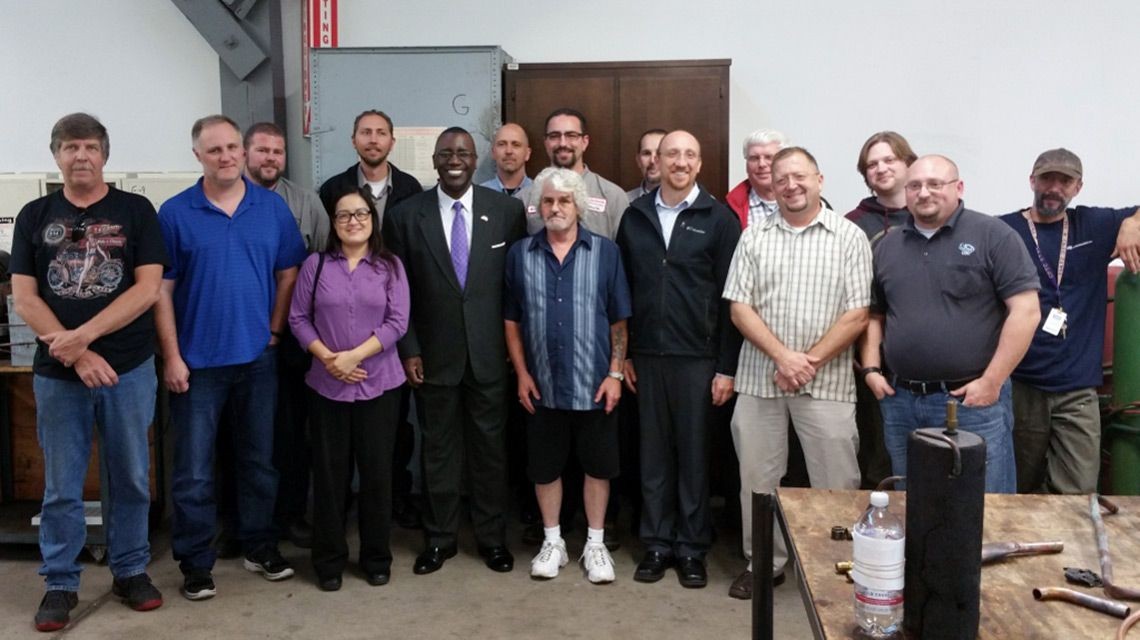 HVAC Welcomes Industry Members to Open House
October 23, 2015
The Heating and Air Conditioning Refrigeration/Service Technician Program at Clover Park Technical College invited alumni and industry members to an open house event on Oct. 20. Guests enjoyed a BBQ meal catered by program instructor Don Pearce and a discussion about current industry needs.
"They've got good equipment here," said Levi Whitley, an HVAC professional at Air Systems. "But there could be some other areas that we could help them build.
"We probably have close to ten (CPTC) graduates that work for us in engineering and projects, and mostly in service."
 The conversation at the open house centered on some of the biggest challenges in HVAC training today and how CPTC could address the challenges.
 According to Pearce, getting the chance to answer questions and take suggestions from industry members about the specific training made the event very beneficial.
 CPTC President Dr. Lonnie L. Howard spoke about the vision the college has for the development of the HVAC Program.
"I've always said that there should not be disconnect between what happens in the classroom and what happens in the workplace,"  Dr. Howard said.
 The HVAC Program organized the event in collaboration with the CPTC Foundation.
"We spend a lot of time building friendships and relationships that will benefit the students ultimately," said CPTC Foundation Executive Director Lyman Gifford. "The primary purpose is to establish friends to make the program the best we can. That makes the students more successful and more marketable because they have had the very best training.
"It would be awesome to see some of the industry become guest lecturers and see some of the alums come back and connect."
Share This Story
Ready to learn more? Visit the HVAC program page on the Clover Park Technical College website.